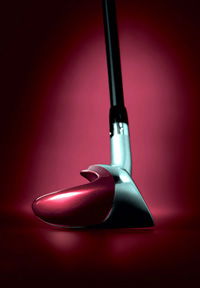 CPR wood – in the pink
Price: £110
She's shapely and sexy, with curves in all the right places. Her face has a feel of total forgiveness as she sits at my feet shining with a pink glow.
I think I'm in love…with a golf club!
This Nike CPR wood (stands for Club for Prevention and Recovery) got some jealous looks from my playing companions, when she emerged from her understated head cover and soon she had wowed them with her performance.
But I have to admit at first she took some getting used to. A little petulant early on, she struck the ball consistently left of the target, but as soon as I discovered what was going on in her pretty little head (toed in about 4 degrees) and made appropriate allowances, she has behaved impeccably.
With 22 degrees of loft, this club is equivalent to a 7-wood but she clips the ball with far more of a penetrating flight than my Callaway Steelhead Plus 7-wood. I thought the Callaway feel would be hard to beat, too, but the Nike CPR fires the ball away on an assertive, high arcing path to a soft landing.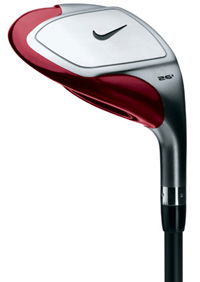 Shapely and sexy – from behind!
For others who already fancy this little beauty, she's also available in lofts of 26 and 30-degrees, and will caress the ball back into play, equally well from thickish rough or a tight fairway lie, thanks to a flat sole that spreads the grass or turf as she glides through it.
She's even reported to perform well out of fairway bunkers – but have yet to find any that didn't have big, threatening lips.
Her unique scoop-back design apparently places the centre of gravity lower and farther back than traditional long irons, hence the sporty trajectory. She also comes with a standard soft tip profile (well what do you expect!) in her lightweight graphite shaft, with a regular flex. The shaft length is shorter than standard fairway woods to help keep the little minx under control.
Verdict

The CPR wood was love at first sight. And once I learned to live with her idiosyncrasies, it has turned into a lasting relationship. In fact, I can hear wedding bells!
Golfmagic rating: 9.5/10