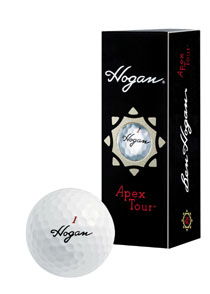 Hogan Apex Tour ball.
Price: £11.95 for three or £45 per dozen
Colin Montgomerie heads for Texas today to test the latest Ben Hogan equipment – clubs and balls – for which he has just committed to play for the next three years.
He will check out the new Hogan Apex ball, which has already brought success for Jamie Spence, Craig Parry and his Ryder Cup pal Bernhard Langer, as well as be fitted for new sets of Hogan Apex Edge Pro irons to replace his Callaway equipment.
We hope he finds more success with the new ball than Golfmagic did.
Glenn Sharp, a five handicapper who 'doesn't spare it' when it comes to hitting the ball hard, yet can produce an uncannily deft short game, was not impressed.
After using the ball during a social fourball at the Greetham Valley course we both play, he told me: "I normally play with a Titleist Pro V1 ball, so this was like a comparison test. The first thing I noticed was the lower ball flight (much lower in fact). But, even considering the slower, softer winter conditions, the ball didn't go as far as I expected, either.
"Iron shots into the green felt a little hard off the clubface and I didn't notice too much spin control. The ball felt hard through the putter but reacted as if I hadn't hit it properly. My colleagues had a go,too and confirmed my suspicions. All left putts short.
"After the round I checked the ball and there wasn't a mark on it, reinforcing the thought of it being hard-skinned, " said Glenn.
"Compared to the Pro V1, the Hogan ball had a lower trajectory, less distance, less spin, less feel and needed to be hit more positively with the putter. It showed little sign of wear but felt a bit like a ball of cotton wrapped in the skin of a ceramic tile."
However, in my view I'd question its durability. It could be down to the new, fresh grooves of the clubs I was using, but my ball samples cut up within a few holes.
I wasn't aware of lack of spin, especially with short irons, nor with lack of distance, though I'm not in Glenn's class when it comes to ripping the most out of a driver. On the green it seemed to roll as well as most balls in its price bracket.
Feel is very subjective but despite its four-piece construction it was somewhere between the confidence-inspiring thrump of a Titleist Pro V1 and the nerve-jangling 'click' when trying to finesse a Pinnacle Distance from the fringe of the green.
Verdict

Hogan claims the new ball with its thin, thermoplastic Urethane cover and parabolic, penetrating ball flight is revolutionary. I can only surmise we got a sleeve of rogue samples. It certainly didn't perform as many would expect for a ball that cost four quid.
Golfmagic rating: 6.5/10