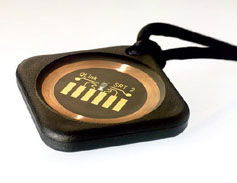 Qlink traditional pendant.
Price: from £99
Standing over a putt while humming a monotone sound to yourself will give you a better chance of holing out. It might also get you led away by men in white coats.
Humming causes vibration in the body and vibration has a very soothing influence – indeed it's far more influential than we have ever realised.
I know this because my sister Jenni lectures in holistic healing and uses the vibration of sound to help release stress in her students and patients. Among other things she has discovered that if an autistic child holds a 40p piece of quartz crystal in its mouth, it will cause a resonance to help free anxiety.
Scientists at two American universities have developed the QLink pendant which claims to achieve a calm state of mind by tuning into our unique bio-magnetic energy field, using a tiny micro-chip (the VLSI Transponder Induction Coil) to create a resonating cell and pick up and enhance our natural energy.
Ryder Cup captain Sam Torrance says the pendant helped him and some of his players – including the Irishman Paul McGinley, who holed the winning putt – to focus and to feel more calm under pressure, while Charles Howell III says he finished third within a few days of first wearing it and went on to win the Renoe Tahoe PGA Tour title a month later.
"I am one of those people who sleeps a lot and I noticed after starting to wear a QLink pendant was that I had a lot more energy when I woke up," said Howell. "When you travel and play in as many events as we do anything that helps you with your energy levels has got to be good."
Bruce Fleisher, one of the top money earners on the US Senior circuit, refuses to take his off.
"I definitely feel calmer since starting to wear a QLink," said Fleisher. "It no longer bothers me quite so much when I hit a bad shot. I find it easier to recover. I don't know how it works or what it does but if you ask me whether I am going to take it off I would say 'hell no'. You don't fool with success."
Thousands of golfers, both amateur and professional, have participated in independent stress testing and QLink says results showed that over 97% of candidates showed reduction in stress levels. They say it also encourages heightened focus and concentration, to the kind of levels which put golfers in 'the zone.' It was even claimed it reduced jet lag.
Some experts – and I count my sister among them – say anything which creates resonance in our body, especially if hung around our necks to fall around our solar plexus, just below the heart, will effect the junction box of our nervous system to calm us and relieve tension. This is where we get the term 'gut feeling' from.
However, she doubts it would have any more effect than holding a piece of Rose crystal in your hand to develop a peaceful meditative state.
Verdict

Having worn a pendant sample for about three weeks – the recognised time the makers claim for 'self programming' to kick-in, I can confirm it certainly aids more restful sleep and better concentration around my computer screen. I cannot confirm it has made me a better golfer yet, but I shall continue to wear the pendant to give it a fighting chance of helping me hole more vital putts without resorting to sounding like a honeybee.
Golfmagic rating: 7.5/10
Three Q-Link pendants are currently available – the Classic Sport (£99), Q-Link Sterling Silver (£199) and the Limited golf version at £570. All come with a 90-day money back guarantee. For further information call 0207 351 7117.