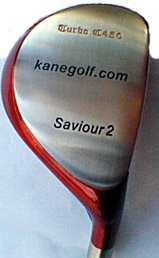 Savior rescue club
Price: £60 each or £150 for three
It's amazing how many club golfers are including a Rescue-style club in their bag – an odd-looking weapon that's a hybrid of the wood and the iron
Kane golf calls their family of clubs – The Saviors in 15, 18, 21 and 24 degree versions – equivalent of 3-, 5-, 7- and 9-wood.
I tested the No.1 (3-wood) model and found it elegant, with its orange, low-profile head, but hardly confidence inspiring.
The makers claim it's easy to use out of light rough and from the tee, but the length of the Endeavour graphite shaft made it difficult to control and every attempt seemed to scoot low off the clubface. High floating shots were not an option for me.
Verdict

At £60 a throw or £150 for a set of three, the Savior's good value but the feel from the C450 supersteel face was unforgiving. Not for me, I'm afraid.
Golfmagic rating: 6.5/10