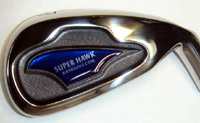 KaneGolf Super Hawk iron
Price: £169 (steel) - £349 (Graphite)
At first glance you could be swinging one of the new Callaway Big Bertha irons – the chunky face, the offset head, the deep cavity back. Even the blue inset label is similar. However, there is a difference in performance and price.
Whereas the Callaway clubs have a good meaty feel off the clubface and inject a strong, powerful flight, the Super Hawk irons lacked the consistency of strike and forgiveness. Best way to describe it is the old Irish term – the feel off the clubface felt 'a little empty'.
But you get what you pay for. Callaway's new irons will set you back £750 for nine irons, compared with £350 for the Kane Golf version. The sample we tried was £279 fitted with an 'Awesome' steel shaft.
What I did like in the Super Hawk irons was the soft feel of the wrap-style rubber grip. It prevents your hands getting too tense at address.
Verdict
These irons are easy to use and give the ball a high trajectory – but height doesn't always equate with distance, accuracy and control.
Golfmagic rating: 7/10