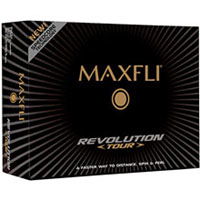 Maxfli Revolution Tour ball
Price: £35 per dozen
If you're a pro or low handicap amateur golfer, distance is rarely a priority. You can rip it out there around the 300-yard mark with what looks to us mere mortals, a flick of the wrist.
To us aspirants of a mighty drive and a high, back-spinning approach, control is a luxury we can ill-afford. We want length and we want feel. Period.
We also want to hole every put we look at.
Unfortunately a ball has yet to be created which can be all things to all golfers – though many have tried. Ball choice is subjective and rarely will two golfers agree on the performance of their favoured ball.
Maxfli hope to settle many more arguments with the introduction of its Revolution Tour - a three-piece ball which claims to suit Tour players as well single figure golfers, looking for a little extra yardage and control.
According to the small print it has 'a SpeedCore to deliver higher velocity for greater distance, while maintaining a low compression for soft feel.'
I put a few balls in the hands of several golfing colleagues with a variety of results.
Left-hander Mal Smith, a 14-handicapper who doesn't spare it off the tee said: "The launch angle was undeniably very good as was the spin control of the driver. But it was too soft for my swing speed and fell 20 yards behind my usual length.
"Short iron and chip shots from around the green were easily controlled but I felt that I needed to over-hit putts to achieve the length I was looking for. Consequently I lost feel with my 2-ball putter.
Nine-handicapper Chris Miles was not impressed.
"Not for me," he said. "If anything, it felt hard off the clubface and the putter. I'll stick with the Pro V1."
Paul Friend (11 handicap) and wife Jackie (20) found the ball ideal.
"We were both impressed," said Paul. It seems to have a very good trajectory and distance – comparable to the Pro V1s we normally use. It was durable too and I used one for three rounds without a blemish
"While we liked the feel of the ball when chipping, it took some getting used to on the greens. It seemed to come up short on long putts!"
Personally, I liked the ball. Off the faces of the TaylorMade r7 and r5 drivers I was testing at the time, it had a softer feel than the ProV1 or Callaway HX Tour but didn't quite hack it in comparative distance. A small price to pay.
It was a similar story from the faces of mid-irons. It was reasonably durable – at least 36 holes before any real scuffing – and my only criticism would be a certain inconsistency off insert faced putters. Couldn't quite feel the pace.
Verdict

As we see every day from the Golfmagic forum, everyone has his or her favourite equipment. And ball performance is more difficult to judge than any driver, iron, wedge or putter. In my opinion the Revolution Tour ball meets nearly all the criteria of the golfer for whom controlling distance is not a problem – whether off the tee or on the green.
Golfmagic rating: 8/10