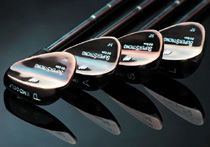 MD Golf Oil Can wedges
Price £49 (50,54,58 and 60 degree options)
I've always been a little sceptical of the need for a bunch of wedges in my bag. After 35 years playing the game, I've learned the technique of altering the loft using my hands and an adjustment to the ball position.
As a 'handsy' player who likes to punch the ball low with skip and spin, I can achieve this using 9-iron, wedge and sand iron without the need to invest in a gap or lob wedge at the expense of a 5- or 7-wood.
However, many of my playing partners prefer a gap wedge between pitching wedge and sand iron for those shots from fairway lies around approaching 85-110 yards from the pin.
MD Golf loaned me its latest scoring club – a 50 degree version with a bronze gloss finish – to see if it might make a difference.
I'm not convinced such a club should be part of my armoury at its full distance, but in my latest round its performance around the green, received some verbal applause from playing partners.
Full out I could strike it 107 yards – I paced it out on three occasions during competition play – and when chipping from fringe or semi-rough it was quite easy to judge distance.
But with these shorter shots it lacked the feel and spin I expected from its grooves, to convince me it should merit a permanent place in the bag.
However, its biggest plus was its price. At £49 its less than half that of better known brands like the Titleist Vokey, TaylorMade RAC or Cleveland wedges, preferred by Tour players.
Over time it's supposed to rust on the face, but showed no sign of this during the four weeks I used in the wet.
Verdict

The 50-degree Oil can wedge is a handsome little beast with all the cosmetics of the bigger brands and a growing reputation. But somehow I just couldn't learn to love it.
Golfmagic verdict: 7.5/10