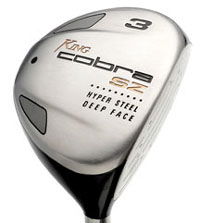 King Cobra SZ 3-wood.
King Cobra's latest SZ fairway metals are not yet widely available but I was fortunate to get my hands on one recently and compare it against my trusty Callaway Big Bertha Steelhead III 3-wood, probably the best and most versatile of its kind, ever made.
The driving range conditions were perhaps not the best, using the usual poor one-piece range balls (which travel on average 20-30 yards less than normal good quality balls) and the cold, wet but not too windy weather allowing for little run.
I alternated clubs every two shots and hit 25 balls off a tee and 25 balls off the deck.
At address, the Cobra is handsome (though still lacking the looks of the Mizuno MP001) and the head cover is a vast improvement on previous protection. It has a 183cc head and the face is deeper and slightly longer, (heel-to-toe) than the Callaway. It has 15.5 degrees of loft compared to Callaway's 15.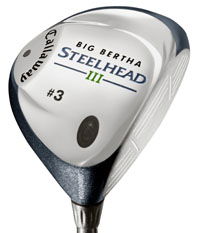 Trusty Callaway Steelhead III 3-wood.
The SZ inspires confidence with the illusion of far more loft, a useful attribute from semi-rough or fairway.
From a tee peg, the Cobra launched higher than the Callaway and despite the stock 60gms Aldila (mid-bend point) regular shaft being a tad soft for me, it gave good feedback and didn't misbehave, even when I really laid into some shots.
The Cobra is forgiving with a bigger sweet spot than the Callaway, and even mishits didn't penalise distance too much. However, the SZ has a definite heel weight bias to promote a draw and I do admit to a few 'duck-hooks'.
I initially thought the Cobra might not be as effective as my Callaway 'off the deck' because of its deeper face and oversize head but I was pleasantly surprised. As for overall carry it also compared favourably.
As for feel and sound, the Cobra is lively and active at impact – with a slightly lower resonance than the Callaway.
Verdict

The Cobra rates highly in all categories, edging the Callaway in looks and performance from a tee but off the deck and in feel and forgiveness it didn't quite match up in my opinion. Mid to high handicappers will love it, especially for tee shots, but with its draw bias it's difficult to shape a fade.
Golfmagic rating: Cobra SZ 8.5/10, Callaway Steelhead III – 9/10