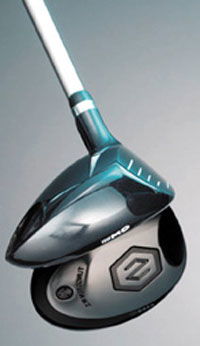 MD Golf's Superstrong 6-wood
Price: £89 (Proforce XL regular shaft)
The emergence of high lofted fairway metals has been one of the key factors in helping club golfers overcome the difficulty in getting good performance from long irons.
The 1- and 2-iron have become almost obsolete in many golf bags of average club golfers, while manufacturers continue to include the 3- and 4-iron in most sets, even though many of us find them surplus to requirements in a match sets of 3-iron to sand wedge.
The 5-wood has always been regular inclusion in the golf bag (as an option for the 1- and 2-iron) but it wasn't until the early 1990s that a 7-wood – a 'gentleman's persuader' - became popular to full the gap between 5-wood and 5-iron.
So I was intrigued to get the opportunity to see how a 6-wood (with 22 degrees of loft) would perform as an alternative to filling this void.
I accepted the comments of playing partners (something about appearing 'a bit of a poseur') when I pulled out this sleek-looking club with its snow white Proforce XL graphite shaft.
One wag even observed that it must be particularly appropriate for 'blind shots'!
However, they were made to eat their words when it consistently produced high-flying, soft-landing approaches and lay-ups.
Its flight pattern is more penetrating than the Callaway Steelhead III 7-wood I have been using for five years and is more difficult to hit those soft fades but when I'd worked out that the head was more 'toed in' than the Callaway, it became much easier to use.
The Tungsten Power Screw technology in the sole reduces the effects of the slice so demands a square (rather than open) address set up to help promote draw spin.
The shaft is also shorter and heavier than the Callaway, producing more control and roll. An average carry was around 180 yards.
The MD Golf Superstrong Steelwood is available in men's and women's right hand versions only (10.5 degree driver, 3-, 5-, 6-, 7- and 9-woods) and with four regular and stiff shaft options. There's also a Series 65 Silver ladies flex (£79), while clubs with the Balistik Rifle steel shaft costs £59.
Verdict

The only criticism I would aim at the club is that it demands precision in the strike and is less forgiving with its smaller sweetspot. Catch it right and it's a new-found friend – mishit slightly and it can offer a stinging pull left of the target.
Golfmagic rating: 8/10