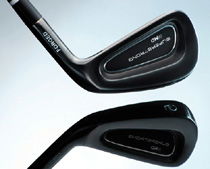 MD Golf carbon steel forged irons
Price: £299 (carbon steel heads, Dynamic Gold R steel shafts, 3-SW))
A set of nine forged irons, with non-reflective carbon steel heads for under £300? Surely not? Clubs made by this more expensive method from a better known brand can set you back at least a further 200 quid.
But it's true and Northern Ireland-based MD Golf deserve great credit for producing a range of clubs at a sensible price which provides the looks and feel of a top-of the range set at almost half the price.
Already recognised by a leading golf magazine as a 'top buy', I put a carbon steel set through its paces during December and was impressed by the overall feel and performance, particularly in the medium and short irons.
I've never been a strong exponent of the 3- and 4-iron, preferring the flight and control of high-lofted metal woods, but in the hands of better players was informed they compared favourably with better known forged brands.
My only criticism of the medium irons (5- to 7-iron) was distance achieved – about ten yards per club shorter than usual through the air - but with a lower flight trajectory, the extra roll made the overall distance less noticeable. It was just a case of allowing for it in the choice of shot.
Don't expect to carry a pond or sand trap at your ultimate distance with a 6-iron, better to take at least one club more and allow for the spin these clubs generate.
The short irons (8- to PW) were a revelation. A powerful flight and bags of spin from faces which weather and grip with wear. Nice feel, too, on those delicate chips and pitches from up to 50 yards out.
The sand-iron, however, was a disappointment. I'm used to a heavy head with a bulbous flange but this club was too lightweight for my tastes and though normally a tidy bunker player, I regularly left the ball in the sand or watched anxiously as it clambered nervously over the lip.
Thirteen handicapper Ian Clark, from Cambridge, emailed to tell me he was delighted with his muscleback version of the MD Superstrong, which he'd had custom-fitted with full cord Lamkin Crossline grips and couldn't identify how other leading manufactures could justify the extra £200-£300.
"I think they are superb value for money. A very tidy set of irons for about half the price of the big vendors," he said.
Verdict

I can't disagree with Ian's verdict, especially if you prefer smaller-headed clubs with a thin top line. They're classic-looking clubs with a realistic price tag. They may not have the badge of better-known brands but you'll be getting a lot of club for your money.
Golfmagic rating: 8.5/10