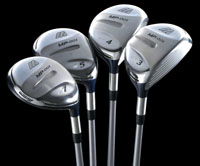 Mizuno MP-001 fairway metals
Price: £179 (graphite), £129 (steel)
I have carried a Callaway Great Big Bertha Warbird 3-wood for at least seven years. It's a little battered and bruised from over-use and has a nasty black mark on the graphite shaft where a succession of headcovers have failed to protect it.
But, like a ventriloquist's dummy, I can almost make it talk – shaping shots, getting me out of trouble, punching it under the wind - and would miss it terribly if anything happened to it.
However, there's a new kid – in fact a couple of kids – on the block, which are vying for my attention and challenging for coveted places in my armoury.
With their electric blue headcovers, Mizuno's new MP001 3- and 5-wood sit up proudly in my bag like a couple of meer cats from a desert hole. And after a few rounds I have found both irresistible.
Mizuno claims that its engineers discovered that amateur club golfers could generate more yards by increasing a ball's launch angle and reducing the rate of backspin – factors not covered by the R&A's regulations on hot-faced clubs. And, they say, testing proved these characteristics could be manipulated through the use of a lightweight graphite crown on the top of the 154cc (3-wood) and 132cc (5-wood) clubhead.
The result is a re-positioning of weight and therefore the centre of gravity, deeper and lower. The ball gets airborne steeper and faster and with reduced spin, distances increase.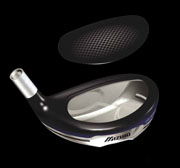 Graphite crown effect on MP-001s.
And based on my, admittedly limited opportunities, I can confirm their findings. The 15-degree 3-wood flew at least 15 yards further through the air than my previous best efforts with the Callaway. And suddenly I discovered a whole new approach to par-5s with the 5-wood travelling comfortably and effortlessly 200 yards through the air. Second shots took me within chipping distance and occasionally on to the green itself.
The Exsar Sixty regular graphite shafts must also take some credit but it's Mizuno's back-to-basics approach to overcoming the Rule-makers' legislation that has re-written fairway metal technology.
Even the distinctive headcovers, with head-to-toe zips and waterproof gelmesh styling, have been carefully thought out to produce a package my playing companions on the first tee, can't seem to keep their hands off!
Verdict

Expect to see these clubs make as big an impression with club golfers as Callaway and TaylorMade did in the 1990s with their respective Warbirds and Burner models. They look terrific and confidence-inspiring at address are easy to hit and the results will have your mates itching to have a go.
Golfmagic rating: 9/10