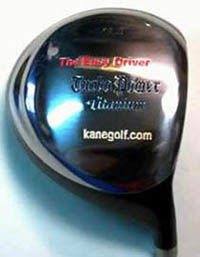 The Big Easy driver
Price: £99 (10.5 deg., 45-inch shaft)
Ernie Els dislikes the nickname 'The Big Easy' – given to him by a US journalist. It has caught on as an alternative handle around the world but infers, he says, a slow, lumbering, laid-back attitude.
He's also not happy either that a similar name is given to the flesh pots of downtown New Orleans where the heady mixture sex, drugs and modern jazz combine to give the city a seedy reputation.
Quite why then Glasgow-based Kane Golf decided to christen their latest driver with this name is a mystery – other than to try to cash in on Els' reputation as one of the longest, straightest drivers of a golf ball in history.
The company is fast gaining momentum as a provider of budget golf equipment challenging the major brands from its www.kanegolf.com website.
Having heard from visitors to our site as well as a respected former colleague who swears by their clubs, I asked the company's Danny Kane to let me try a selection on behalf of Golfmagic.
Over a couple of rounds and a session on the range I put the club through its paces and, bearing in mind it's priced some £300 below some of the latest state of the art offerings from major brands, it performed quite well.
KaneGolf claims the anti-slice head is closed only two degrees but with its sculpted offset face it appeared at address even more 'toed in' than other anti-slice drivers.
Even as a fader of the ball I wanted to stand even more closed to my target line than ever before.
On occasions during competition play I caught the ball sweetly and the head's 10.5 degree of loft sent shots on a low, penetrating flight that matched the distances of pricier Cobra, Titleist and TaylorMade drivers in the hands of colleagues.
But it lacked consistency and I seemed to be forever fighting a pull-hook.
Colleagues who also tried it found themselves adjusting their grip and stance to allow for a similar tendency to hook.
However, what I did like was the soft wrap 'shock absorber' grip which had a sponge-like appeal and prevented tension at address.
Verdict

At £99, new and improving golfers on a budget will find The Big Easy 'Turbo Power Titanium' driver a help in straightening their slices. And with a 350cc head it's certainly easy to hit – even off the deck. But personally I will keep trying to work on my swing to cure any slice rather than rely on a hooded clubface to keep the ball on the straight and narrow.
Golfmagic rating: 7.5/10