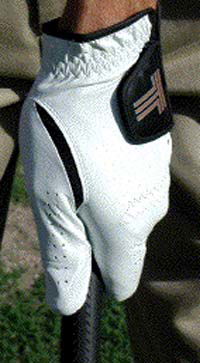 Roo glove – keeps its shape
Price: £15.95
Current trends in the golf accessories market show that kangaroo skin is now in as much demand as the cabretta leather from the indigenous Brazilian hairsheep (not a lot of people know that!). It's used in the manufacture of a variety of gloves, from those gleaming white versions worn by Red Arrows pilots (another gem!) to the humble golf glove.
The Roo glove, as the name suggested, comes from the hide of Skippy's great grandkids and the suppliers (Golfshop Europe) justify its expense with its durability which, they claim, is three times the length of most other leather golf gloves.
And I can confirm, having used a sample throughout more than a dozen winter rounds, it stood up well, despite its ultra thin skin. Okay, it soon got grubby but there were no tell tale abrasions on thumb, forefinger and palm that reduce the life of rival brands.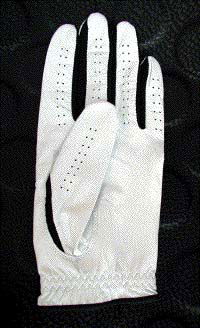 Thin-skinned
The makers also say that when it gets damp the kangaroo leather creates more adhesion. But I couldn't confirm this as it never got warm enough to sweat and if it looked like rain, at £15.95 for one glove, I put it away in favour of an all-weather variety.
And unlike some of the opposition, the Roo hardly stretched in three months, avoiding that irritation of the velcro fastening flap overlapping with wear.
The Roo is available in men's left and right-hand models from small to XXL and for women S-L. White only, complete with button-on ball marker.
Why not enter the exclusive Golfmagic competition where you could win one of 25 Roo gloves:www.golfshopeurope.com
Verdict
If I had to criticise the Roo, the leather was almost too thin for me. Personally I prefer a glove that can absorb some of the vibration from the grip and shaft but I can appreciate why trick shot specialist David Edwards and Ladies Tour professionals Wendy Dicks and Rachel Bailey endorse it. They demand more feel than the average golfer and certainly get it with the Roo glove.
Golfmagic rating: 9/10
Footnote: Wendy Dicks' GEMS management company is hosting cricketer Phil DeFreitas' golf days (during his benefit year) at The Belfry, London Club, Hanbury Manor, Frilford Heath and Woburn where each participant will reveive a Roo glove. For further information visitwww.gemsgolf.co.uk