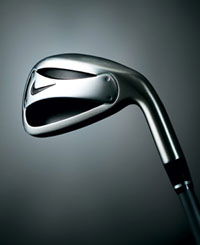 Stylish Slingshot
Price: £599 (steel shaft) £699 (graphite)
I have to admit I was sceptical. To be told that American magazines 'Business Week' and 'Men's Health' had voted Nike's Slingshot irons among their products of the year was just the kind of information guaranteed to put me off.
After all, businessmen and women who hack it round the country clubs and poseurs and body-builders who are forever looking in the mirror; what do they know about golf club technology?
And with 'Golf Digest' chipping by naming the Slingshot it's iron of the year, no doubt satisfying one of its best advertising customers, I was still unconvinced. It didn't help that Nike Europe had sent me a set to review with stiff steel shafts after I'd asked for regular.
However, rather than wait for my local pro to return from holiday to give me his expert view, I decided to try them for myself and I'm pleased to report, these Slingshots hit me between the eyes!
My first shot was with the 4-iron, which sat confidently at address on the fairway and gave me a low, powerful and penetrating flight. So far so good.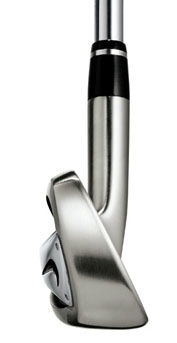 Chunky looking 6-iron.
Though at first glance they're impossible to tell apart in the bag (which could lead to some errors in club selection), the chunky 6- and 9-iron provided a solid introduction to the medium and short irons.
Nike says its Slingback technology is to position the centre of gravity – Air CG, they call it – somewhere in the pocket of air between the clubface and the curved metal bar into which is etched the brand's swoosh logo.
Apparently after countless sketches and more than 200 hand-made prototypes, their creator Tom Stites settled on the theory that if the centre of gravity is pulled behind the clubface and lower in the club head, progressively from short irons to long irons, it promotes a higher launch angle and helps square the clubface impact.
In addition a wide sole prevents the club digging in at impact and 'fat' shots resulting.
Apart from one inexplicably weak 8-iron approach, I was impressed by the consistency of strike I got from all the irons.
And the pitching wedge that came with the 3-iron to PW set was a delight. From seemingly everywhere, I was able to pitch dead to the flagstick from a variety of lies from 10 – 50 yards. The feel was like I was wearing velvet gloves.
As for the lightweight Speed Step steel shafts, they felt marginally firmer than the Dynamic Gold regulars I am used to but gave me more of a sense of control.
Verdict

If I had to bitch about the Slingbacks, it would be that the metal bar, appears more like a bolted on afterthought to accommodate the logo, than part of Nike's integrated technology and the cavity created could well prove a rust spot within a few months. However, I was impressed by their overall performance with the wedge a class act in its own right.

And just to prove how confident I am with them, I'll be using them in the Golfmagic Golf Day at Blackmoor on Thursday.So watch out guys!
Golfmagic rating: 8.5/10