| | | |
| --- | --- | --- |
| | Olyo 2203 VII mallet putter | |
| | |
| --- | --- |
| Contact: | www.olyogolf.com |
| Technology: | Face balanced mallet putter, polymer 'action faced' insert |
| Price: | £59.99 |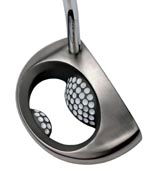 Olyo 2203 VII mallet
Face-balanced mallet putters, demanding a pendulum-style swing, have become extremely popular in the last 12 months with club golfers.
They have watched the pros achieve amazing putting feats with Odyssey 2-balls, Rossa Monzas and Bettinardi Baby Bens and feel by emulating them they, too, will get their putting stats below 30 per round.
Only problem is the handicap golfer neither wants to spend £100 on a putter nor at least three hours a day on the practice green.
They want cheap, instant results.
This new device from Olyo – at first glance, a development of the Nike Blue Chip Oz putter - might not guarantee instant success but at under 60 quid its cheap for a putter.
It's cleverly designed to look like a two-ball's spin-off, using the space behind the head to assist alignment.
And unique is the polymer 'action face' insert which claims to impart immediate top spin at impact and improve feel.
| | | |
| --- | --- | --- |
| | The Golfmagic verdict | |
| | |
| --- | --- |
| Rating: | 8/10 |
| Summary: | The version I tested, was perhaps a fraction too long for me and my claw-grip action but it certainly complimented the feel of a good quality ball and improved the contact on some firm balls I reviewed. It's good value. |
*Tell us about the putter in your bag - as well as the clubs, shoes, waterproofs – by submitting a user review
And if you've got equipment to buy or sell second hand you can do that too, in our popular classified section.