| | | |
| --- | --- | --- |
| | Olyo 2605 Titanium driver | |
| | |
| --- | --- |
| Contact: | www.olyogolf.com |
| Technology: | Classical head and deep face, developed for the low to mid-handicapper |
| Price: | £139 |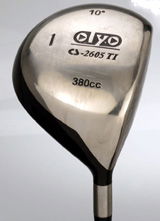 Olyo 2605Ti driver
Introduced earlier this year, this 380cc driver has a classical head and deep face, favoured by all the top brand manufacturers.
Even so it looks small-headed in comparison to the 430cc (Benross V8) 440cc (Cobra SZ) and 460cc (Mizuno MP001), monsters currently being produced by its competitors.
Olyo says it's aimed at the low to mid-handicapper and will compliment the 2304Ti produced last year targeted for the higher handicapper.
I've tested dozens of drivers in the last 12 months but for me, personally, I didn't particularly find it confidence-inspiring or forgiving.
Catch it right and it was up there in distance with recent Yonex and Ping drivers but, like the Callaway Fusion, I found it hard to strike sweetly with any consistency.
Olyo holds much store by its exclusive access to UST graphite shafts and there's no doubt the UST 71 and 75 Tour Ti shafts can make a big difference in the right hands but the Aldila One (65 regular) in the 2605Ti which I tried wasn't for me.
Olyo devotees and there's one low handicapper in my club whose observations I respect, will no doubt disagree but it didn't work for me.
| | | |
| --- | --- | --- |
| | The Golfmagic verdict | |
| | |
| --- | --- |
| Rating: | 7/10 |
| Summary: | With Gary Evans on board helping with the development of its clubs, the future looks promising for Olyo but this particular club is not my cup of tee. Some like Tetley or Typhoo - I'm more an Earl Grey man, myself. |
*Tell us about the driver in your bag - as well as the balls, shoes, waterproofs – by submitting a user review
And if you've got equipment to buy or sell second hand you can do that too, in our popular classified section.