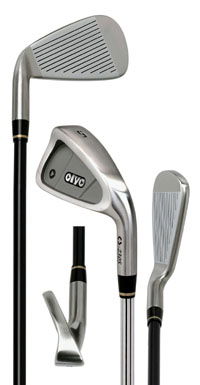 Olyo CS 2305 irons - simplicity.
Price £399 (UST 75 Tour graphite shaft, 3-PW. Steel £299)
It's perhaps not the best way to test a bag of clubs – straight into a midweek stableford competition with no warm-up and the knowledge that they have to go back to their owner tomorrow.
But hey, it's my job! Needs must.
Marcus Buckley Bennion, managing director of Performance Golf Products UK, which distributes the Olyo brandin the UK, offered to lend me his clubs to try the latest CS 2305 irons and hybrid rescue clubs. But he stated categorically, he needed them back 24 hours later to play in his own club's Saturday medal.
No pressure then.
And I didn't make a good start. After topping his 13-degree CT2305 Forged Ti 2-wood off the first tee, then performing a similar feat with his 15-degree CS2305 3-wood, I wasn't immediately enamoured with Olyo.
But I eventually accepted my double bogey six with good grace and headed for the second tee, where a couple of successive 'nobbles' with the 16- and 18-degree Rescue clubs compounded my growing irritation for the brand.
The saving grace were the newly re-modelled CS2305 Series oversize irons, fitted with the exclusive UST 75 Tour graphite shaft. This perimeter-weighted set (3-PW) is designed for the mid- to lower handicap golfer and claims to offer greater control and forgiveness, with an elegant look and slightly thinner top line.
Though less attractive than Mizunos, and lower flying than the £1,000 TaylorMade Rac CGBs, these clubs have a plain Jane simplicity that inspires confidence over the ball and delivers a solid strike.
With my steep angle of attack, I thought the shallower sole might not suit my swing and create too many fat strikes and deep divots but was pleasantly surprised. I was able to nip the ball off the firm surface with a spin and control that helped nullify my earlier efforts with the fairway metals and hybrids.
The longer irons would take longer than one round of golf to settle into – and 7-handicapper Marcus' insistence on the inclusion in his bag of four fairway metals between 13 and 18 degrees was evidence of that! – but the medium and short irons' performance was well as good as most clubs I've tested at twice the price.
Olyo is a burgeoning brand competing to claim a foothold chiefly ahead of the likes of Top-Flite, Hippo, Progen, MD Golf and Benross and aims to use top European Tour player Gary Evans, to help it reach the next level in club design.
And using the American UST shafts and Evans expertise could make a breakthrough with these irons.
Verdict

It's tough to make a snap verdict after just 18 holes, but these irons proved impressive and are recommended as an option for the better player on a limited budget.
Golfmagic rating 8/10