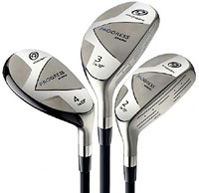 Progen Progress hybrid series.
Price: £69.95
Rescue clubs have currently become de rigeur but, as a traditionalist, I've always carried the standard 1-, 3-, 5-wood and 3-iron to sand wedge plus putter configuration. I've been loath to "think outside the box" as far as my equipment is concerned.
This new Progen Hybrid club, with its 19-degree face and regular flex black graphite shaft, may just have saved me from sliding into late middle age and beyond, snorting and harrumphing about how things aren't the same any more.
Loft-wise, I suppose this is technically a "four and a bit" wood. Testing the club during a recent trip to Austria, I hit it the same sort of distance that I would expect to hit a 2-iron – a bit further than my 3-iron - but with far more ease and consistency than I'm likely to have achieved with those particular long irons.
A wide, shallow face and graphite shaft with a mid-kickpoint, rewards the accurate strike but is also quite forgiving. This allows the club to be used effectively not only from off the fairway but also from light rough, with the low flight delivering good distance from awkward spots.
It's particularly good for hitting into wind and helps your confidence because the low trajectory means the ball is less likely to be blown off-course.
So, this could be then end of me as Mr Traditional. All I need now is the black mock turtle-neck shirt and Nike cap reversed on my head. They should go nicely with the Union Jack trousers?
Verdict

A useful "in-between" tool that will give you extra distance without the associated fear when reaching for that low digit iron.
Golfmagic rating: 9/10