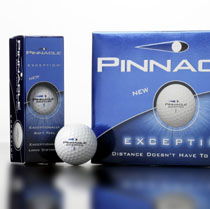 Pinnacle Exception
Price: £6.25 (4-ball sleeve) £4.75 (3-ball)
Have to admit I'm a bit of a ball snob. When it's competition time, I'll proudly announce Titleist Pro V1 or Callaway HX black and appropriate number and marking as I stoop down to set ball on the tee.
The Pinnacle is usually reserved for a 'quick find' spare to use as a provisional following a slice into undergrowth or a replacement after a shot dunked into a water hazard.
Not any more. I have new respect for this newly refined ball, much maligned by 'better' players.
The Pinnacle has gone soft – but it works. In its 20-year life, the prodigious length of the second-best selling ball in the UK has always come at a price. It has felt hard off the clubface and has been difficult to control around the green.
Now Titleist, its makers, have discovered that 'distance doesn't have to be hard.' It has a soft compression and high velocity core, coupled with a 392 Icosahedral dimple pattern on its durable Surlyn cover. It's solid off the face yet spins and stops with the right contact.
I also like the nice touch of distinctive directional arrows on the surface, which avoids defacing its clean lines with a Sharpie pen.
Verdict

I have been most impressed and might even announce it with a degree of pride in Sunday's medal, ignoring the sniggering behind me.
Golfmagic rating: 9/10