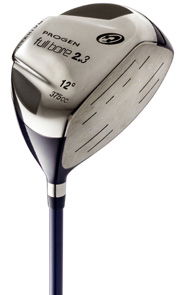 Progen Full Bore 375 driver.
Price: £99.95
No matter how many times the golf gurus tell us that concentrating on our short game is the only way to substantially reduce our scoring, you just can't get away from the fact that the biggest thrill of all is not sinking a putt but spanking that little white ball 250 yards or more through an azure blue sky.
Progen's Full Bore 2.3 Titanium driver is just the tool for that particular job – and for less than 100 quid, it's a big-headed budget club that looks and feels a lot more expensive.
I tested one with a 10.5-degree loft, fitted with a regular flex Full Bore blue graphite shaft, at my home club, Stoke Rochford, a parkland course near Grantham.
The 'marketing speak' will tell you that "The 375cc driver head is constructed from 6AL4V forged titanium and an optimised centre of gravity resulting in more penetrating flight and longer ball carry."
All I know is that it's easy to hit this club long and straight – as long as you swing it 'easy.' The large head with dotted arrow marking the centre of the face can lead to over-confidence and the belief that you can blast it out of sight. I know, because I tried…and blocked it right because I was getting ahead of myself – and my hands and my body ahead of the ball.
But a smooth, controlled swing which results in a central strike on the clubhead reaps its rewards with a satisfying click off the face and that smug feeling as you see the ball arc away into the distance.
What's more, I hit 10 out of 14 fairways with it – I couldn't help giving one or two a rip and predictably finished in the righthand rough – which is the sort of percentage I can happily live with.
Verdict

A great club for the price and you'll get the benefit if you swing it easy.
Golfmagic rating: 9/10