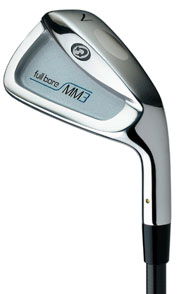 Progen's new iron.
When I requested a set of irons to test, USP Brands the parent company of the Progen model, demanded to know what degree of lie I'd require.
When I told them 'four degrees flat' was preferred the answer came back ' surely not – that's for a very short person!'
However, because I carry my hands quite low at address and over the years have quite successfully developed a self-taught 'flattish' swing, which I'm not about to change, I confirmed the specification.
No doubt with a shrug, Progen's Marcus Illingworth obliged. But the results were outstanding.
At £349.95 these irons fall into the 'medium cost' category – neither budget nor premium in terms of what you shell out – but they play like a good top-end-of-the market club.
Adjusted to my personal spec, the long and medium irons tended to fly high and straight at the target – because of a lower centre of the lower centre of gravity built into modern longer irons - and plummeted into greens regularly with a lot of check spin.
Standing over the ball they gave me confidence from the rounded, chunky top edge appearance and the 8-iron became such a good friend both chipping around the green and from 130-140 yards out, that I'm reluctant to part with it.
Progen says its Full Bore MM3 short irons are cast from a softer grade of steel for better feel and I'd have to agree. The difference compared with some forged irons was hardly detectable. The higher centre of gravity built in, say the makers 'encourages a lower, more controlled, trajectory.'
These certainly didn't fly as high as the Bay Hill by Arnold Palmer short irons I recently tested but seemed to compliment my handsy-style of punched approaches.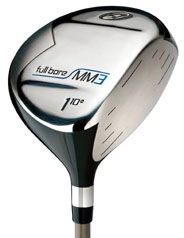 Progen's MM3 driver.
Even at just under £100 each the new MM3 woods that compliment the irons were less to my liking. The 10-degree driver appeared more like a 3-wood compared to the current monster I'm using, though occasionally, on faster running fairways, it matched its length.
The steel shafts of the driver, 3-wood and 5-wood produced a lower, boring ball flight but were tough to strike solidly with any consistency and the distance was also tough to control.
Verdict

If the irons fall within your budget, I'd highly recommend them. They're a good, solid workmanlike club that get the job done. Perhaps they don't carry the kudos of a Mizuno, Callaway, Titleist or TaylorMade but get them custom-fitted to your own spec and they'll be as responsive and reliable as a pet.
Golfmagic rating: 9/10