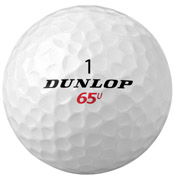 Dunlop 65 revitalised.
Price: £2 each or £23.99 for 12
My recollections of the original Dunlop 65, thirty years ago, are of a ball I used only on special occasions – and then only from the second tee, having negotiated the out of bounds which skirted the opening hole, with a used ball!
It would carefully be unwrapped from its cellophane, admired and given an affectionate kiss before being placed on the tee peg.
Back in the 1970s little was known by 18-handicap golfers about ball performance. A ball was either new or well used. Spin, distance, launch angle, control characteristics were futuristic descriptions not yet accepted into the golfers' language.
A ball's street-cred was based on its durability. If you could play three rounds without putting a 'smile' on its face by cutting the cover with the leading edge of your irons, it was a great ball and you were a 'useful' golfer.
Back then, a solid drive with a persimmon-headed club would propel a Dunlop 65 around 200 yards on a summer's day while a pitch from 100 yards would need to bounce twice before it reached the green to give you any chance of a single putt. Backspin was only for the professionals.
So it was with some affection that I put the new Dunlop 65u (for urethane cover) into play on Sunday morning. It's unique Moebius dimple pattern, a combination of unusual triangle (three-sided) and pentagon (five) patterns, reduces side spin from tee shots, say the makers.
Dunlop also says the isometric design increases accuracy, consistent ball flight and distance. It's aimed at golfers upto 12 handicap with 'mid-high swing speeds in need of accuracy and distance off the tee and some spin on approach into the green.'
That sounds like me to a tee – and I wasn't disappointed. I was up there with one of my 15-year-old big-hitting playing partners – despite giving him, 40 years start – and rarely out of the fairway.
As for spin, the ball reacted well to the full shot but I will need to practise more with it to bring it to a halt sooner from chips around the green. Not quite the explosive reaction of a Pinnacle off the clubface, but certainly not a soft-skinned Titleist or Maxfli.
I was so impressed with the ball's performance that at on the 18th hole, which demands a precise shot over water, I exchanged it for an older ball, so I could guarantee using it another day. And after 73 strokes it didn't have a mark on it.
Verdict

At £2 each – nearly half the cost of the latest long and soft challengers - these new Dunlop 65u's should become the favoured brand of thousands of low to mid-handicap golfers. The problem will be the manufacturers keeping up with demand. It's not officially in the shops until mid-March, so be patient folks, it's worth waiting for.
Golfmagic rating: 8.5/10