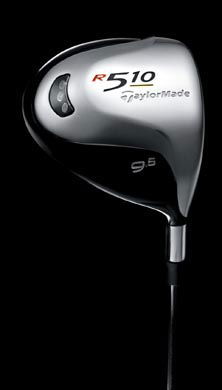 TaylorMade R510 driver.
TaylorMade R510
Price: RRP £399
Callaway Great Big Bertha II+
Price: RRP £349
Given the choice between a putter that holed more putts and a driver that delivered more yards, chances are that most golfers would opt for length off the tee rather than accuracy on the green.
It's perhaps a sad reflection of today's golfers but macho man is alive and kicking.
It's a question I asked some of my golfing pals during a rain-soaked Sunday morning fourball recently. And though they admitted it would be nice to play off a lower handicap, the feeling that ripping the ball with a driver over 250 yards like a tracer bullet, gave them more satisfaction.
In recent months much has been spun and written about new drivers on the market so it was time to put two of them to the test over a few weeks, in different hands and in varied conditions.
The TaylorMade R500, successor to the 300 Series was in the hands of Ernie Els to win The Open and Rich Beem to win the US PGA in August, while the pro-conforming Big Bertha II has been used by Charles Howell III to win the stats for combined distance and accuracy on the PGA Tour.
In terms of looks and quality there's nothing to choose between the two clubs. The R510 Titanium version we tested (10.5 deg loft) looked slightly more confidence boosting at address with its sleek black head that sat comfortably at our feet.
The 11-degree Great Big Bertha II+ (with a non-conforming 'hot' face which will be outlawed in 2008) was more rounded, chunky and deeper in the face and sat at angle that appeared slightly toed in to limit that destructive slice with which so many of us are familiar.
With its low torque, firm tip, regular flex shaft, the R510 proved more successful for me when swung slowly and deliberately. When I tried to squeeze some extra yards out of it with some extra aggression, it didn't respond as I had hoped.
One of my regular partners Ian Coulson, a seven handicapper, had been considering buying one of the R500 models (the 520 and 540 are also available) but has since rejected it.
He told me: "I was really looking forward to using this driver, but was disappointed. I played with the test version for two rounds and with my slow swing speed, couldn't get the best out of it. It felt dull on impact with no real distance compared with my current Callaway VFT. The shaft felt very stiff and I was left thinking this is a club for a pro or a strong low handicapper."
Neil Tunstall who plays to a handicap of around 15 strikes a long ball for his standard but found the shaft often delivered the ball too low for comfort.
Personally I prefer a low-ball flight so the R510 proved more appealing and even produced a strong penetrating flight off the fairway – an acid test for me when choosing a suitable straight-faced metal-headed club.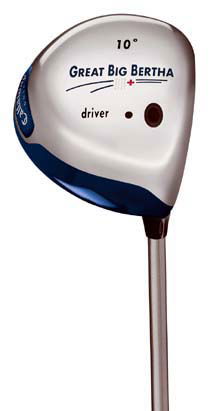 Callaway great Big Bertha II+ driver.





Charles Howell claimed his season 'took off' when he got his hands on the Callaway Great Big Bertha II. For me it was the opposite!

My first four tee shots scuttled low and left – despite a deliberate attempt to swing long a slow. For at least an hour I hated the club with a passion.

The 380cc head – 130cc than my original Great Big Bertha driver – suddenly didn't instil much confidence. It wasn't until I teed the ball lower to encourage a slightly steeper approach into the ball that I began to strike it with more consistency. The downside, however, was a left to right ball flight that lost distance.

However, off the deck it was – surprisingly – a joy. With its deeper face, and not expecting too much, I thumped a couple of corkers off wet fairways that made my day.
Verdict

Overall, in terms of quality and value, there's nothing to choose between these two heavyweights – apart from the price. The R510 is recommended to sell £50 cheaper but it may be slightly less playable for the mid-to-high handicapper than its Callaway rival.
Golfmagic rating: R510: 7.5/10; Great Big Bertha II+: 8/10
STOP PRESS: I spoke with Ian this week(after the first publishing of the comparison test) and he couldn't stop raving about the Great Big Bertha 2+.
He told me: "Having read your comments, I wasn't sure what to expect. On the range I teed the ball nice and high and it went very high, very straight and VERY long. Balls flew the 250 yard marker and rolled into the back fence. On the course I had the same success - adding 15 to 25 yards to my regular driving distance even though it was wet,cold and windy.
"On the down side I found that if you hit the ball towards the neck or the toe it dived into the fairway very quickly at about 200 yards. But get the sweet spot and boy, does it it fly. I am going to buy one of these but with a 9-degree loft. The 11-degree test club tends to balloons into wind.
Editor says: Ian is six inches taller and has a more upright swing than me. He's a self-confessed a high ball hitter and it seems that in lie angle and shaft in this driver may have been suited to him. I have amended the Golfmagic rating accordingly.