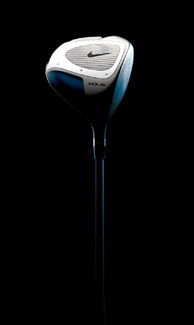 Nike's 400cc driver.
Nike Forged Titanium 400cc driver
Price: £249
It's billed by Nikeas 'the driver of your dreams' – the driver 'that helped Tiger defend his US Masters green jacket.'
I have been waiting with anticipation for nearly four months to get hold of one to check out the 'spin' – that's the marketing speak, not to be confused with a slice – against the reality.
As seems to be happening more and more to me – I nutted my first shot off the tee to leave the perfect 9-iron approach into the first green on my home course.
First impression…this is good, I'm going to enjoy this. During the rest of my first round, I wasn't disappointed; its deep, hot-face made from Beta titanium delivered the ball in a low, penetrating trajectory – the feel of the forged head vibrating tantalisingly through the fingertips.
The secret, I found, is to give yourself time in your swing to make the most of Nike's new Torsional Titanium Weave shaft. From the moment of take-away to the follow-through, it's best to repeat to yourself 'S-E-V-E-R-I-A-N-O B-A-L-L-E-S-T-E-R-O-S' rather than 'T-O-M K-I-T-E'.
Swing too fast and your hands will get past the ball well ahead of the clubhead resulting in a shot that will be perfect for a tight, left-to-right dogleg, but disastrous for a straight-away par-4, lined by trees and deep rough.
The version I tested was the big-headed 400cc, three and one-and-a-half times larger, respectively, than the earlier 275 and 350cc models.
Mine had a 10 degree loft – there are eight and nine degree lofts, too – which was fine off a generous tee peg but unlike many drivers I have tested – especially the Cobra 370 Unlimited and TaylorMade 360 – hopeless off the fairway. My playing colleagues will agree that I'm a bit of a specialist at striking a driver off the fairway (you have to be when you're only a little fella!) but though I could make contact, the flight was consistently low and cutty. I could not reproduce the controlled high fade that gives me so much pleasure, when you're regularly first to play on par-5s and long par-4s.
Another minor criticism is the irritating headcover that comes with the club – like a zip-up boxing club. When wet, it's too tight for the clubhead. Putting it back in its cover can be painstaking which tends to put a strain not only on your nerves but also on the stitching. No wonder Mr Woods uses a personalised Tiger headcover for his own driver – otherwise he and his caddie would be penalised for slow play!
On the bright side there has never been a better time to buy a Nike Forged Titanium driver. The makers have just dropped the recommended retail price for Christmas from £399 at launch to £249 – that's roughly a £150 saving – a bargain.
Verdict

Among today's big-headed drivers there isn't a better looking club and if the 'swoosh' on the sole means as much to you as the 'swoosh' it makes as it contacts the ball – you'll be well satisfied. For me, after all the anticipation, I was a little disappointed by its performance.
Golfmagic rating: 7/10