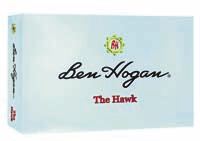 Hogan's Hawk ball
Price: £29 per dozen
For a ball described in the accompanying publicity blurb as 'scuff-resistant,' The Hawk might well be guilty under the Trade Descriptions Act.
In fact, by the time my sample had completed less than half a round it appeared like the surface of the moon under a strong telescope, its dimples like craters and its 'urethane talon cover' giving the appearance that indeed Houston, 'an eagle had landed!'
But the Hawk – apparently called after one of Ben Hogan's nicknames because of the multi-major champion's uncanny ability put a course under precision attack – performed better than it looked.
Not as long as a Titleist Pro VI or Callaway HX Tour black – what do you expect when you're paying £16 per dozen less? – but it felt equally solid at impact and produced good spin and feel around the green.
My playing partner Mal Smith didn't appreciate the hook spin his sample appeared to produce but mine didn't suffer a similar fate. Indeed its three-piece construction and 'lively energy core' lived up to expectation with a high trajectory off the driver and good roll off the putter face.

Verdict

Didn't meet the 'whiter than white' criteria set by the marketing copy-writers and lost its colour too quickly but the ball was robust and performed well off the club face.
Golfmagc rating: 7.5/10