Srixon Hi-Brid Tour.




A few years ago, for a mid to high handicapper, the choice of balls was limited. I couldn't play balata balls as the high spin rate sent wayward drives even more off course and their limited distance was always frustrating.

So I used distance balls but would have preferred the feel of balata with which to chip and putt.

My short game has been giving considerable problems lately -putting particularly - so I have been determined to discover a ball that suits me. It has been quite an exploration but has given me a better insight into the different feel and characteristics of golf balls. I've tried a hell of a lot.

In the last couple of years a variety of all singing-and-dancing 'compromise' balls have come onto the market - long off the tee, soft off the wedges and putter; low spin off the driver, high spin off lofted clubs. Terrific.

The only problem: they all tend to be at the pricey end of the market.

This week I tried Srixon (pronounced Sch-rixon) Hi-Brid-Tour and Srixon Pro UR balls, not an obvious choice. And they must be the first scented balls – sadly like cheap bubblegum - on the market. It must be down to the outer coating of urethane, which has replaced balata for spin and surlyn for distance and durability. (Maybe it's a new way of finding them by sniffing in the undergrowth? Ed)

As a benchmark, against which to compare them, I used the Maxfli A10, no longer in production but I like them and they deliver the goods.

Srixon Hi-Brid Tour (Price: £9 for three)

As the name suggests, a ball that should do the lot and the one preferred by Srixon staff players (including Robert Allenby and Thomas Bjorn). Certainly an alternative to the Titleist Pro V1, Hogan Apex or Maxfli M3.

It feels good off the clubface and has a silky smoothness off wedges and putters – not as soft as balata but the sort of luxury feel most players would notice.

Off the driver its distance was up there with a lot of harder distance balls but was down on the Maxfli A10, as it seemed to launch higher. It did, however, bore through the wind, spin well off wedges and sat down quickly on approach shots.

In fact, I nearly aced the par three 5th at my local course. Called through by a fourball in front, the ball pitched two inches to the right of the hole and checked up within a couple of feet. Though I missed, the putting overall felt good, but like some other premium balls, needs a bit more in the stroke to get it to the hole.
Golfmagic rating: 9/10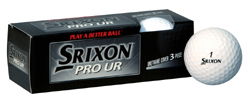 Srixon pro UR.
Srixon Pro UR (£7.25 for three)
Another three-piece urethane-coated ball, less pricey than the Hi-Brid but nowhere near as good. It felt as if I was playing a two-piece distance ball. Okay, it was long off the tee and played well into the greens but it was distinctly harder and with a distinct click off the putter face.
In a moment of generosity I sought a second opinion and gave one to a playing partner to try (he was playing a Titleist NXT Distance at the time). He confirmed the same hard feel and compared it to a Top-Flite XL2000. Later he gave it back!
There are better and cheaper two-piece alternatives though some golfers prefer the harder sound off the putter enabling the ball to roll more readily than the Hi-Brid. It's similar to the new Dunlop 65u in feel and playability but it's not my personal preference.
Golfmagic rating: 7/10
Verdict

Of the two and at the right price, I would play the Srixon Hi-Brid regularly but not until my Maxfli A10s have worn out or been lost for ever !