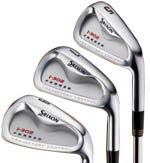 Srixon's I-302 irons
Price £599 (3-PW, steel shaft only)
My regular playing pals can't understand why I'd want to step on the tee in a competition having just unwrapped a new set of irons and expect to play to anything like my potential or my 10.5 handicap.
Surely there's a certain amount of pre-round practice to be ploughed through? Some warm-up shots perhaps?
Certainly not, I tell them. For me first impressions are everything. I have a low boredom threshold and don't tend to warm to products over a long period. Patience has never been my strong suit.
Who, for instance can sit on a river bank all day and enjoy the experience of fishing without a bite on the end of the line? Not me.
So I emerged on the tee, armed with these sparkling new forged irons determined to go with the flow. Whatever happened, I would accept and give my opinion accordingly.
Faced with a 5-iron approach to the first green, I liked the look of the head nestling against the ball. Not the thin top line of a Tour pro's blade, nor the chunky top to an offset Callaway or Ping. The I-302 was somewhere in between – perfect.
While the Crossfire grip doesn't have the adhesion of some soft Winn grips, nor the distinctive lines of the latest Nike CPR irons, it felt firm and in control.
Despite low expectations of the result of only my second swing of the day, the ball flew off the face with a penetrating, slightly fading flight and pitched into the green. A solid par, what more could I ask?
As the round continued and I worked my way through the set I found the mid and longer irons more forgiving than I had expected from forged blades made of 1025 carbon steel.
As for the 8- and 9-iron they appeared slightly straighter-faced than usual and during my test I sent at least a couple of shots airmailing greens, demanding some extra work from the pitching wedge.
The feel of these shorter irons would take some getting used to. The ball tended to take off on a lower trajectory and my lack of short game practice was suddenly exposed.
However, with a little deft putting with a more familiar club in my hand, I kept my score to my handicap – leaving my playing companions, from whom I extracted a total of £10, scratching their heads, still unsure as to whether I'm an adaptable golfer or just plain lucky.
Verdict

If you're considering a move to forged heads, the Srixon I-302s are a forgiving option with a rounded sole, to minimise those 'fat' shots and nip the ball off the turf. Only drawback could be that the model is currently only available with a Rifle Steel regular or stiff shaft. At £600 they're expensive, too, but shop around and, as Neil Smith discovered, you can get a good deal.
Golfmagic rating: 8.5/10