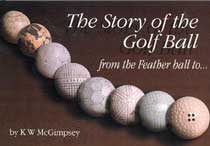 The Story of the Golf Ball
Price: £49 (ISBN 0 85667 588 1)
USGA officials still chuckle about the time they employed an actor to purloin samples of the golf balls being used by Japanese professionals Isao Aoki and Tommy Nakajima in the 1980s. Some players felt they delivered an illegal distance, especially as they were not available outside Japan.
The man was duly dispatched to the US Open and after much traditional bowing and scraping, asked the players in their own language if they would donate balls to the USGA golf museum.
The pair obliged with samples straight out of their golf bags and the balls were immediately spirited away to be secretly tested on the USGA's New Jersey range, where it was discovered there was nothing to choose in distance or performance compared to those regularly used on Tour.

Author Kevin McGimpsey.
This is just one of the many anecdotes which pepper 'The Story of the Golf Ball', written and published by Kevin McGimpsey, antiques expert with auctioneers Bonhams and brother of Walker Cup captain Garth McGimpsey, who wrote the book's foreword.
But this is more than a light-hearted tome of stories and illustrations, this is the definitive book on the golf ball that will provide hours of fascination for generations. Not only do its 288 pages trace the history of the ball from the 1450s – made from wood, leather, hair and feathers – to the modern day, but also included are many original advertisements featuring such models as 'The Eclipse', The Vardon Flyer, 'The Spalding Bramble' and the rubber-cored 'Haskell.'
Much of the information is credited to 'Golf Illustrated' – the oldest golf magazine still in circulation (now called 'Golf Weekly'), which I was proud to edit for five years. I knew we were sitting on a gold mine of information but it takes the skill and dedication of a Kevin McGimpsey to research and publish the information found in it.
Not that his resources are bottomless. He has sunk much of his own time and money into producing this labour of love, but also pays tribute to the help and encouragement of Shifnal golf pro Roger Morton, fellow collector Jim Espinola, Sotheby's golf consultant David Neech and European tour pro Mark Roe, a keen collector of golf memorabilia.
Kevin says:" Extensive use has also been made of the hundreds of golf balls sold at auction since the 1980s enabling collectors to work out what their golf balls are worth.
"And for the specialist collector there is a listing of over 3,000 balls, each one cross-referenced to provide details of characteristics, date, cover pattern and auction prices."
The book reveals that the highest price paid for an early ball was £24,000 for a 'featherie' model made in 1840 by David Marshall. However, still the most expensive is a Henry's Rifle ball made in 1903 and sold at auction in 1998 for £29,000.
Sadly, as the book reveals, golf balls have cost some poor souls their lives – and not necessarily by being struck by one.
In 1637 at Banff in Scotland, Frances Brown – described at the time as 'a boy of an evil life' – was hanged for stealing two golf balls, which he confessed he sold to the servant of one of the local gentry.
Verdict

For a golf nut this is the ultimate reference book – steeped in rich history and golf's humorous anecdotes. Hopefully my new grandson will also treasure my signed copy into the second half of the 21st century.
Golfmagic rating: 10/10
'The Story of the Golf Ball' is available at good, specialist book shops. To order direct or to find your nearest supplier, contact Kevin McGimpsey via email: kevin@golfballcollector.co.uk.