Adams Tight Lies GT Ultimate irons
Price: £469 steel – 3-SW, £569 graphite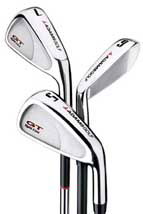 Tight Lies GT Ultimate irons.





First impressions can be deceiving. It's a dangerous ploy to make up your mind negatively about a person you meet for the first time.

They may not be at their best – and neither might you. You often need to give it a little time to discover if you appreciate their point of view and their demeanour.

Not so with golf equipment. It can't answer back so your judgement is often based on your first hit with that club.

With Adams Golf's updated Tight Lies GT Ultimate irons, I have to say it was love at first strike!

Having delivered my opening drive to the ideal spot on my local course, I plucked out the 9-iron with a little trepidation, having not had the time to practice or even warm-up with these new clubs straight out of the box.

The Lamkin Tour Wrap grips felt nice and tacky in my hands but there was nothing tacky about the shiny, low profile clubhead at my feet, though a little smaller and thinner in the top line than I am used to.

Then…Bam! The ball was struck with a piercing trajectory into a stiff westerly wind, over the flagstick. It speared into the back of the green before sucking back towards the hole.

What was that! I looked up at the club, quizzically, as it recoiled from over my shoulder as if it was a wand that had cast a magic spell. I think I'm in love and Barney Adams, the gruff New Yorker who built Adams Golf from scratch with millions of his own dollars, is cupid.

Much of the technology around these clubs is based on its unique shafts – a fusion of steel with a graphite tip inches from the head.

The combination of the two aims to deliver more accuracy consistently and a better feel through the fingers. By George, I think he's done it.

As the round progressed, though not able to quite re-produce that Wow! factor I was able to appreciate the distinct differences that Barney and his team – which includes celebrated convert Tom Watson – had developed between long and short irons.

The long irons have a clear offset in the hosel, which makes them appear more like a confidence – boosting short iron and less like a scary poker. Combined with a lower centre of gravity the ball gets airborne sooner.

The scoring irons, however, have less offset than you would expect, creating a lower trajectory and more control. Hence the result with the 9-iron.

These clubs are strong, too, at least five to seven yards per club further than the three-year-old Wilson Fat Shafts I normally play with, though not quite as forgiving with mishits. The odd off-centre strike reacted clearly through my fingertips but without much loss in accuracy or distance.

And if I did have a gripe it would be with the sand-iron which I consistently pulled to the left, though rather than the lack of offset at address, it might be caused by poor technique from a 'bad workman blaming his tools'.

There's little wonder that Adams' original GT irons finished top of the highly respected poll produced by US club-testers Rankmark, who reported that 'minimal offset in the short irons, allowed more skilful players to accurately control the shape and trajectory of their shots.'

These, say Adams, are even better, combining the benefits of the Tight Lies Tour and Performance models and certainly they made a good first impression on me. I haven't been deceived yet.
Golfmagic rating: 8.5/10