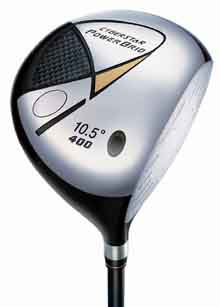 The new Yonex driver.
Price: £329 (regular graphite shaft)
Check the bottom of the latest Cyberstar driver from Yonex and there's what, at first glance, looks like the word 'Power Bird' etched into the sole.
Quite appropriate, I thought, for a driver, which claims to deliver more power from a high-flying trajectory.
In fact, it read 'Power Brid' – an abbreviation of the word hybrid, with Yonex claiming a breakthrough using the combined technology of graphite, titanium and a flexible head.
I could be forgiven for my temporary dyslexia having, on closer examination, been blinded with science, too!
There's no doubt that Yonex has, yet again, produced a strikingly attractive golf club having carefully researched how to generate extra power by flexing, not the face, but the whole of the 400cc club head.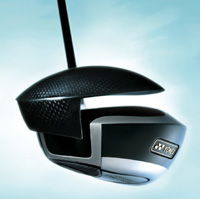 Split-head technology.
This flexibility, says Yonex, helps increased the launch angle by nearly two degrees and, combined with a lower centre of gravity, reduces the spin rate.
I put the club in the hands of several low-to-mid- handicap golfers, before submitting my own opinion, but none claimed it generated significant extra yards.
However, all agreed it probably produced more straighter drives than any other driver they had handled.
Commented 35-year-old Neil Tunstall, a long hitter for his 14 handicapper: "I consistently hit it solidly but wouldn't say it was any longer than my current 10 degree Great Big Bertha II.
"However what impressed me was its consistent direction. I have never hit a ball so straight with a driver. I actually struck it where I aimed!"
While confirming, it's not as long as the King Cobra SS 430 or as forgiving as the Mizuno MP001, the Yonex will deliver accuracy over reasonable distance and comfortably passed my private benchmark of height, penetration and accuracy from a bare fairway lie.
Verdict

Though a terrific–looking club with all the typical Yonex sophistication, I couldn't come to terms with its distinctly toed in appearance at address, which combined with flex in the head and the regular Ultimate Ti graphite shaft, tended to produce more pulls than a lads' night out in Falaraki! But if you already have the distance and desperately want to buy accuracy – around £300 could be a price worth paying.
Golfmagic rating: 8/10