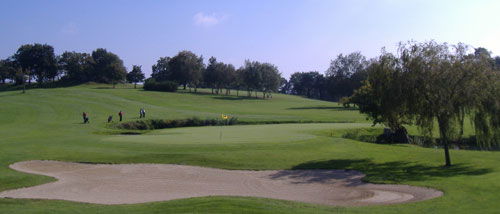 Le Tronchet - resort golf at its best
Having once lived there for four years, I can say, unequivocally, that France and the French have a style and elegance unmatched by any other European country. And Brittany is a region which exemplifies all of this, particularly with its golf courses, its food and its hospitality.
So imagine my delight when I was offered the opportunity by Golfmagic.com and Brittany's Board of Tourism to sample a golf package in this delightful region and report back my discoveries.
Having taken the one-hour flight by Ryanair from Stansted - my golf clubs adding an extra £15 each way to the ticket - my three companions and I (journalists from Liverpool and Fife and Kate Fenton representing the Tourist Board) stepped out at Dinard Saint Malo airport, which more resembled a small, ancient fort than a typical terminal.
Driving through the flat, wooded and agricultural countryside, typical of most of Northern Brittany, the impression is one of order, architectural variety and cleanliness. No side roads used for dumping unwanted assortment of rubbish which, sadly, seems to be a characteristic of 21st century UK.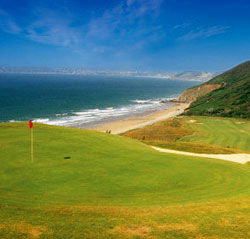 Spectacular greens and tees at Pleuf Val Andre




We had expected to take part in the pro-am curtain-raiser to the Open AGF-Allianz Côtes d'Armor Bretagne, a European Challenge Tour event at Pleneuf Val Andre Golf Club, which included a former Ryder Cup player (Peter Baker), US Amateur champion (Richie Ramsay) and several Tour winners (Raymond Russell, Andrew Oldcorn and Steve Alker). Although we were part of a 'competition' in which one score counted for the group on each hole and only amateurs could win prizes, in truth, we found ourselves as part of Johan Skold's practice round - and feeling surplus to requirements.

As the stoic Swede, as companionable as Ken Livingstone in a bad mood, took notes on yardages, pin positions and green slopes, we tried to keep out of his way as he smashed the ball great distances and putted somewhat crookedly for a Tour pro. I was not surprised to learn he later missed the cut in a tournament won by 40-year-old Baker.

The course, itself has been described as 'modern, combining perfect links land with some terrific inland holes' - a little exaggerated, though the 11th is one of the most beautiful holes I have played anywhere in the world. This 550-yard par-5's tee sits at least 200 feet above a fairway which is bordered on the left by stunning coastline, with a spectacular backdrop of hills with sheer faces. Considered by some, the most beautiful golf hole in France, it compares with Royal County Down in Northern Ireland. As for the clubhouse, it's palatial.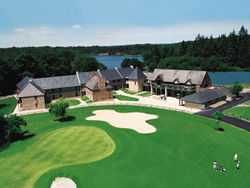 Golf Hotel Saint Malo




We were later whisked away to the elegant, chalet-style Golf Hotel Saint Malo at Le Tronchet, where the welcoming staff all spoke excellent English (but appreciated my knowledge of their language) and served a sumptuous meal with Burgundy wines. Our rooms were of a similar quality - not matched, however, by French television. Keenly anticipating our second round at the hotel's own course, I wasn't disappointed. Despite one or two open and short par-4s, with a couple of design changes, it could become one of France's finest challenges from the back tees. It came as no surprise to learn that it was designed by Hubert Chesnau, who also created Golf National in Paris, which annually hosts the French Open on the European Tour. Many of the par-3s and three of the par-4s have ponds and lakes in front and at the sides of the greens which are heavily bunkered. They are both spectacularly beautiful and daunting - particularly as there are virtually no bail out areas!

Our day was topped off by a visit to the L'Abbaye restaurant at the former convent turned country hotel of Couvent de l'Ordre des Trinitaires where my langoustines starter and sea bass main course with a tarte aux framboises was a triumph. Though Brittany is not a wine-producing region, its Burgundies were superb and if such wines were more widely available in the UK, we would not be as laudatory of wines from Australia, Chile and South Africa.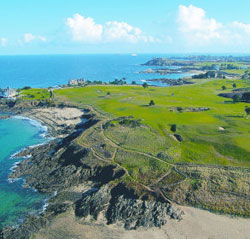 Aerial view of Dinard




Dinard Golf Club, France's second oldest course, is probably best-known to British golfers visiting Brittany with its art deco clubhouse and a handful of links-style holes which run along coast. It was designed by the Scot Willie Dunn in 1887 and provides excellent holiday golf for the higher handicapper. But with three par-3s of little more than 100 yards each it probably doesn't provide a real challenge for the better player.

Away from the golf, there's much to enjoy in the old, walled, fortress town of Saint Malo with its busy harbour and marina, elegant shops and restaurants and fine cathedral with beautiful stained-glass windows. Here, too, are the gravestones of Jacques Cartier the founder of Canada and Le Surcouf the notorious 18th century privateer who destroyed or captured so many English ships!

Offshore lie a few small islands, one of which is named after Monsieur Chateaubriand of fillet steak fame. The poor chap apparently had a great liking for meat but such poor teeth his steak had to be as thick and soft as possible, short of not being cooked at all! He would not have appreciated British 'rosbif'!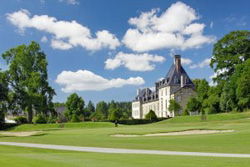 Des Ormes - challenge among mature terees




Domaine des Ormes in the heart of one of the grandest estates in Brittany with its Les Ormes course takes up most of the spectacular 370 acres and presents an interesting and varied challenge in a lovely location among many huge trees which are hundreds of years old. It reminded me of many Surrey courses, particularly Camberley Heath.

La Freslonniere golf course close to Rennes, the capital of Brittany, provided our final challenge and similar to Les Ormes, was redolent of the heavily wooded courses created by Harry Colt at Blackmoor or Brockenhurst Manor in Hampshire. Great, mature trees, heather, bracken, streams and ditches and small, undulating greens set at an angle to the fairways are outstandsing features. How appropriate my final stroke on a fabulous trip should deliver a birdie on the 18th green.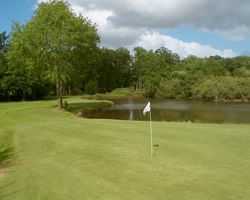 Eighth hole at Le Fresionniere




Sadly it also brought to an end the best five days of golf, food, wine, accommodation and ambience I can remember - and as I stepped on the plane at Dinard, I didn't really want to come home to transport delays, postal strikes and uncertain weather!

Brittany is a particularly beautiful region with long, straight, well-surfaced roads, less than half the traffic of England, elegant yet homely hotels and restaurants and a style and elegance unmatched by any other European country. I should also pay tribute to the professional greetings we received from the directors and managers of the various destinations we visited.

I should also comment on the overall friendliness of the French golfers, who (somehow) instinctively knew we were British, although my wearing plus twos for a couple of rounds may have given a clue. Everywhere we were greeted politely and I was impressed by their speed of play. On the two occasions we were held up, we were immediately invited through. I was also surprised at the number and obvious keenness of French golfers, many of whom were still showing enthusiasm, despite restriction to driving ranges and nets.
Verdict

Brittany should not be missed by keen and discerning players looking for a gastronomic golfing experience. To make it even more special for most of us who are not on unlimited budgets, take advantage of the enticing Brittany Golf pass which affords a 20% discount on the already modest green fees at many courses - excluding Rennes St.Jacques and Dinard, which offer a 15 per-cent reduction. Call 0800 085 7739 to for further details.

Acknowledgements

Golfmagic.com would like to acknowledge their thanks for their hospitality to: Phillipe Lefeuvre and Philip Petersson, director of golf and general St Malo, Jean- Guillarme Legros, director of golf at Dinard Golf Club, Frederic Bessonaud and Valerie Kugler –Director of golf and Commercial Director at Domaine des Ormes, Romain Hullard, director of golf at La Freslonniere and Kate Fenton at Representation Plus, on behalf of Brittany Tourism. For further information call 0800 085 7739.