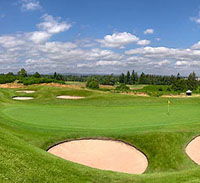 Denty Den – Gleneagles' finest
Here's Part Two – the back nine of my recollections of great courses I've played. I reckon my tally is around 400 around the world.
It's a fascination game to play your favourite 18 holes of all time, from first to last and one which we hope you will join in on the forum. Many of you may disagree with my selections but that's the beauty of talking golf – it's all about opinions – unless we're discussing The Rules. But that's for another day. Tell us on the forum about the rounds you have had, the holes you have most enjoyed and don't forget to help build up our great course user-review system, which currently includes over 1,100 nominations.
10th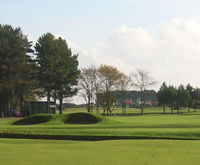 Carnoustie's 10th
Carnoustie 446 yards, par-4
I love a bit of golfing folklore, so this Carnoustie hole appeals more than most. It was called 'South America' reputedly when one of hundreds of Carnoustie residents who emigrated in search of fame and fortune last century, got as far as one of the greenside bunkers after an alcohol-fuelled farewell. He was discovered the next morning and was asked where he was headed.
At 446 yards it tempts the better player to go for the green in two, but punishes those who come up short. The deep and snaking Barry Burn will take its toll and the kidney-shaped green can catch the unwary. The snack bar behind it serves bacon butties to die for.
11th
Woburn Dukes, 478 yards, par-5
The hole has particular significance for me as it was the first time I spotted a live golfing legend. Tony Jacklin, though admittedly past his prime, was putting out during a round of the Dunlop Masters at Woburn Golf and Country Club and I stood in awe at the back of the green.
For better players, it's a reachable par-5, though for us mortals it demands an accurate tee shot and lay-up avoiding giant oak trees. Then it's a nifty pitch to a green which has been re-modelled recently to throw off only the most accurate of approaches.
12th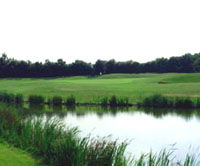 (0 per-cent water at Collingtree's 12th
Collingtree Park 173 yards, par-3
Johnny Miller, another golfing legend, took a strong hand in designing Collingtree Park in the early 1990s and described the 12th hole as his signature.
Off the back tee the hole is 90 per-cent water, and off the members/visitors tees to the right, it's just as tough, just as intimidating. Any pulled shot will find water, cut it right and you're faced with a pitch than runs away towards the lake. Any time I par it, I'll punch the air.
13th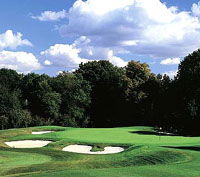 Fabulous downhill 13th at The Grove
The Grove, 209 yards, par-3
Okay, I've picked back-to-back par-3s but had to include this hole at The Grove in my survey. Stand on the tee and the hole is breathtaking and sweeps down in a swathe of grass, bunkers and imperious trees.
It's an inviting tee shot with a fairway metal or rescue club and is longer than it looks. The green sits at 45 degrees to the tee and demands a high, drawing tee shot to a long undulating green.
It's worth the green fee to play this hole all day long.
14th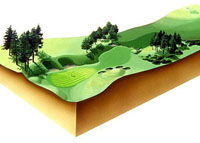 Impression of the 14th
Gleneagles (Kings) 260 yards, par-4
My early golf was influenced by the BBC pro-celebrity tournaments featuring Lee Trevino, Gary Player, Sean Connery and Jimmy Tarbuck playing nine holes of the Gleneagles Kings course.
And invariably this short par-4 called 'Denty Den' (Dainty Dell) would figure strongly in the coverage, where the pros would drive the green, looking for eagle (even with their persimmon-headed clubs) and the amateurs- and viewers - would watch in awe.
A line of bunkers short of the green can catch the miss-hit, while five more surround the putting surface leaving a narrow entrance. It's a hard green to read, too, making it probably the King's ultimate test.
15th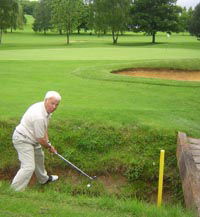 Getting to grips with Knowle's 15th
Knowle 180 yards, par-3
I can image the Knowle members considering this great little hole tucked in the trees as the key to their scorecard for most medals and stableford competitions.
At 180-yards, it looks innocuous but requires not only a straight tee shot but also one that reaches the required distance. Anything else, as I found on my recent visit, will land you in trouble. Bunkers lurk either side and a deep ditch will catch the miss hit tee shot.
Terrific hole on a terrific course that has stood the test of time during its 100 years of activity.
16th
Forest of Arden, 399 yards, par-4
At just under 400 yards the stark figures hardly scratch the surface of the challenge that greets you at 16 on the Arden course – one of the finest short par-4s in England asnd on the European Tour. Two giant oaks at the angle of the left-to-right dogleg, beckon you to take them on, almost mocking anyone not reaching for their driver rather than the conservative route to the left.
As we all usually find to our cost, the carry is further than it looks. Come up short and tangly scrub will trap you into running up big-numbers as you go for the lake-protected green in two. Face it, it's not the third lowest stroke index for nothing! It's ruined thousands of medal cards, and cost pros thousands in prize-money.
17th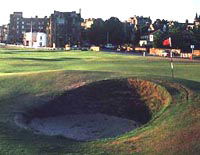 Famed Road Hole bunker
St Andrews (Old Course) 461 yards, par-4
No eclectic review of my favourite holes would be complete without the 17th on the Old Course at St Andrews. To play the world's most famous golf hole and dismiss it as not the best penultimate hole experience, would be churlish, even though I'm not a great fan of this venue for more than its share of Open Championships.
Blind off the tee, it's not the easiest shot to clear the giant sign that sits in front of you but having found the grassy open spaces, the green looks miles away and out of reach to a mid-handicapper.
However, the famous old putting surface, protected by the Road Hole bunker beckons and you can almost feel the nods of past champion chiding you for finding the world's most infamous golf hazard.
The R&A rightly made it slightly easier by raising the level of sand in 2002 so as to prevent the pros looking ridiculous but it still provides great theatre.
9th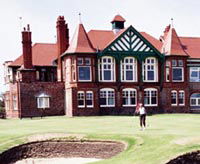 Royal Lytham famous closing hole
Royal Lytham & St Annes 393, par-4
The classic finishing hole - more dramatic than St Andrews, more testing than Royal Birkdale or Royal St Georges, more picturesque than Turnberry. Royal Lytham's 18th echoes of outstanding past champions including Gary Player, Tom Lehman and David Duval. And who could forget Tony Jacklin's drive to set up his 1969 Open victory? 'Oh my word, what a corker!' – still echo in my mind from Henry Longhurst's legendary commentary.
The landing area is flanked by bunkers and combined with the menace of cross-bunkers in the fairway maintains the nerves at a raw level. A brave drive is rewarded with a gentler approach but bunkers still lurk around the green to turn par into double bogey.