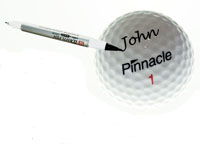 Indentity is vital.




There's more to identifying your golf ball from others in your group than merely telling playing colleagues 'it's a Titleist', or a 'Top-Flite 3', for example.

The leading brands are becoming so popular that you need to clearly identify your ball and your ball only – because if you can't, the penalties are severe.

Play the wrong ball in strokeplay and you're penalised two strokes; in matchplay you lose the hole. If two players can't decide whose ball belongs to whom, they must declare them both 'lost'.

So it's important to clearly identify with a pen your own distinctive marks on your ball. You can even use markings as a legal practice aid.

Dual-point Identi-pen.
I've even heard of some golfers putting their name and address on their ball, in case someone finds it and might wish to return it! (Only joking. Ed).
Seriously though, I always mark my ball with a red line, which extends around the circumference either side of the small lettering that identifies the specific ball brand.
Together with a couple of dots under the number, this not only identifies it as mine but gives me a direction mark on which I want to set the ball rolling when I'm putting. It's perfectly legal and you'll see many pros have adopted this technique when TV cameras focus on close-ups. The line also helps when I tee up my ball – something to concentrate on at address.
Now a new dual point Identi-pen has been introduced - one end for marking, the other nib for writing – by Glasgow-based Markingworld.
Using a specially developed ink, it allows balls to be marked and scores to be recorded, even on laminated scorecards, where traditional pencils are no longer an option.
Tested on West of Scotland links courses for over a year, the Identi-pen (price £1.99) has shown it can withstand the harshest of environments.
Milngavie's Hilton Park golf pro William McCondichie commented: "It's a great product and great value. My customers not only like the choice of colours, but also the choice of writing nib. It's an all round winner."
Added Glasgow Gailes pro Jack Steven: "Sales have been good; my members just keep coming back for more. It satisfies all criteria."

Choice of colours
The distributors of Identi-pen are offering Golfmagic visitors the chance to sample the pens FREE. They have one to give away to the first 100 who send a stamped addressed envelope to Markingworld in Glasgow. You can even specify a preferred colour – blue, red or black.
Apply to: Markingworld (Golfmagic Promotion), Mondalach House, Croftamie, Glasgow, G63 0DH.
*Golf clubs and golf retail outlets are invited to call the Brantwood Holdings sales office on 0116 262 9661 for samples and further information.