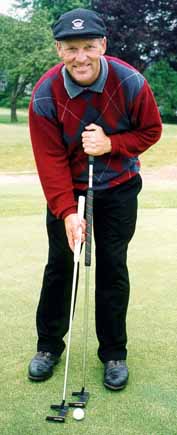 Steve 'Two putters' Stull.
When it comes to playing golf Steve Stull is unique – he's the only professional golfer who carries two putters.
"As far as I know I don't know anyone who does it but to me it makes sense," says the 52-year-old from Washington who has already won on the European Seniors Tour and last week competed in the US PGA Seniors championship, won by John Jacobs.
He carries a standard 35-inch Leading Edge putter with a heavy branding iron-style head and an almost identical make with a 42-inch shaft.
So why the need to carry two putters?
"I've found the combination of two putters is ideal. Putting is 50-60 per-cent of the game in terms of scoring. Most players carry 13 clubs for half the game, whereas I carry 12 clubs for half the game and two putters for the other half, " Steve told me while competing in the Wallonia Seniors Open in Belgium, where he led after 36 holes.
He calls his broomhandle his 'Pressure putter'.
"With my shorter putter I have a tendency to open up the blade and push my putts out to the right and if the putt is breaking left to right that's not good. It's immediately below the line and will never come back.
"But if I've got a right-to-left breaking putt my tendency to push the putt up the hill means it might just break into the hole on the pro (top) side. With my long putter I tend to pull my putts a fraction but mostly keep them straight.
He says that when he gets under pressure in a tournament sometimes those little putts become difficult but with his longer putter he doesn't get nervy at all.
"I can stay calm and know I can make the putt. It just gives me a bit of confidence.
But doesn't it get confusing?
"Not at all," says Stull, "I've found the combination of two putters is ideal. To make way for my second putter I leave out either my 7-wood or one of the three wedges I carry.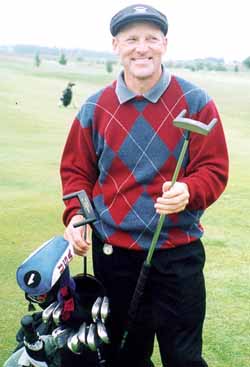 Fourteen clubs – two putters.
"It's all about trying to beat the odds," he says. "In soccer you bring on a substitute to combat a player with a certain skills who's beating one of your players. In baseball they have statistics on batters and how they perform facing every left or right-handed pitcher. The stats are never the same.
"I've worked out that if I'm going to make at least one more putt a round with one putter than I am with the other that's at least three more putts per tournament. From six feet it could be four strokes a round or 12 per three-round tournament. That's the difference between first money or last money."
So why do we rarely see amateurs using the broomhandle putter?
"It's because they don't care, their score doesn't matter," he says sweepingly.
"Amateurs are out there to have a nice time – if they miss a bunch of six footers they maybe shoot 105 instead of 101 or they shoot 90 instead of 85 or 86. For us a 74 could be a 69. Over three rounds you can't afford to give that many shots away."
And he quotes one of the game's greatest short game coaches Dave Pelz as a supporter of his theory.
"I attended one of his clinics and I always remember him saying 'one day the world's greatest putter will have two putters in his bag because you can't putt as well from short distance with a short putter as you can with a long one.'"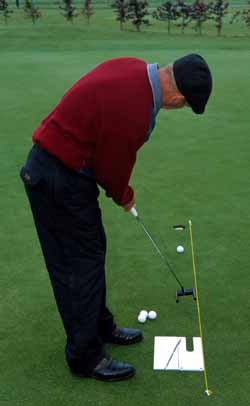 All done with string and mirrors.
He says that at the senior professional level, players are working towards saving between half a stroke and one stroke every round. With players like Hale Irwin or Tom Kite they're looking to save a quarter of a shot a round. That's the difference between winning and finishing second.
"We do what we do but we must try to improve. If I only have the short putter I know a possible 70 would become 74. Guaranteed. I've done it and know the odds."
Stull has some fascinating tips for amateurs if they want to improve their putting.
String along your putting
Always carry a 10 foot piece of string in your bag to practice your putting for 10 minutes before you play. Tie each end to a tee and fix to the ground to leave a flat putt to a practice hole. Use the string to line-up your stance and keep the putter parallel to the string.
Know your slopes
Get to know the slopes on the greens you play most often. If necessary take a spirit level on a practice round to check out the fall lines (the natural slopes of the green) every seven paces, front to back and side to side. Plot them on a course planner. Steve uses a Harold Swash-designed 'green reader.'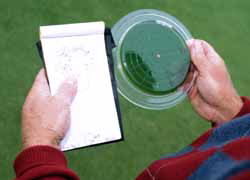 Green reader plots the slopes.
Train your eyes
3 Train your eyes to see the target your putter face is looking at, ideally using John Cook practice aid mirrors. "Builders know what plumb or level is. They see it all the time – they train their eyes to see it. It's the same with putting you just have to do it often enough.
Square the eyes and shoulders
Concentrate on getting your shoulders and your eyes square to the target line so your stroke becomes automatic.
Take time to practise
Spend at least ten minutes on the practice putting green before you play. Getting the feeling of the green speed in your fingers and work on the four footers, holing a succession of them rather than merely putting at hole from distance without thinking about what you're doing.
Golfmagic wishes to thank the Belgium Tourist Board for their assistance in the compilation of this feature.