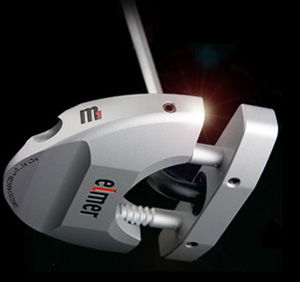 Custom fit your own Elmer putter




After ten years of ground-breaking research and development, English-born John Elmer has introduced the Elmer M1 putter to South Africa - and is now looking for a UK distributor for a golf club you can custom-fit to your own specification.

Available with a range of shaft lengths from orthodox 33.5ins to broomstick (46.5), the club comes complete with sliding body system for distance control, two face options, weighted rails to adjust tracking and an adjustable lie angle for use by a right or left-hander.

Says Elmer, originally from Lincoln: "It's a revolutionary product with a number of patented features and comes with an instruction booklet."

In setting up the putter, you first choose between the milled aluminium or polymer insert faces with the harder milled face more suited to slower greens of the northern hemisphere. After adjusting the lie angle for personal preference, you choose a combination of 13 and 36 gramme aluminium rails to set up the overall weight and balance to help take the putter back on the correct line.

The sliding body can be adjusted closer or further from the face depending on the speed of the greens - closed for slow, open for fast. The position can make a difference of three feet over a 15 foot putt, says Elmer who points out to potential customers that R&A and USGA Rules (4-2a) prevent adjustment being made mid-round.

Cost of the putter, attachments and headcover is £107 (1,495 rand) including courier delivery (four working days).

*What putter are you currently using? Submit auser review for the chance to win prizes every month. In November we're giving away two John Letters drivers.

Golfmagic has over 3,000 items of equipment reviewed within its system, many of which golfers use to consider their purchases. Most, too, can be bought from our shopping partners, which are listed on the left-hand side of every page.

And if you've got equipment to buy or sell second hand you can do that too, in our popularclassified section.