Cleveland's CG15 Black Pearl wedge (left) and CG15 Oil Quench wedge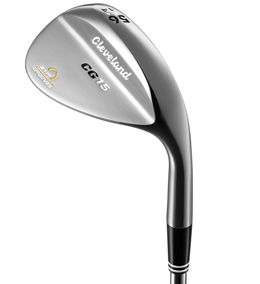 CG15 chrome wedge




With worldwide sales fast approaching the nine-million mark and more PGA Tour wins with wedges than any other brand, Cleveland knows its stuff.

Latest addition to the family are the CG15 wedges, which Cleveland says contain the most advanced technology it has introduced in almost a decade. The new CG15 wedges retain the Zip grooves that are 25% larger than conventional grooves, but the real breakthrough is the addition of a laser-milled face.

The combination of these two technologies has resulted in Cleveland's highest-spinning wedge ever.

Laser milling means that the clubface has grooves between its Zip grooves. Using an incredibly fine laser, four perfectly calibrated texture lines are milled between each groove, all of which are within the conforming limit on surface roughness. This means better friction between club and ball, and ultimately more spin.

Having dealt with the abrasive face, Cleveland's engineers worked hard on sole-turf interaction and came up with the 'S' shaped sole design. The heel section of the sole retained the width of the 'C' grind of the CG11 but material was removed from the toe to reduce drag through the turf, especially on open-faced shots and bunker play. A low bounce 'DSG' (Dynamic Sole Grind) is also available to offer total short-game flexibility.

In a bid to further improve the club's performance, Cleveland designed the Traction shaft with a more flexible tip to improve feel at impact without sacrificing consistency on full shots.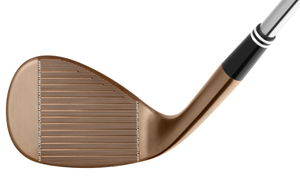 Abrasive grooves on the CG15 Oil Quench wedge
Cleveland says it has resisted the temptation to make its products conform to the impending new rules on grooves. By launching them now, Cleveland can legally manufacture these wedges until the end of 2010 and as long as the wedges are shipped before January 1, 2011, retailers can indefinitely sell these wedges as conforming.
However, it begs the question: if you can buy wedges with old (high spin) grooves for the next year and use them beyond that, why would anyone – except Tour pros and competing amateurs - want 'conforming' grooves?
But back to the CG15 wedges, which have a pretty comprehensive range of options, with more than 20 loft and bounce combinations. There are also three stunning finishes - Black Pearl, Satin Chrome and Oil Quench (the DSG wedge is only available in Oil Quench). Priced at £99 and available from November 1, loft options are: 46, 48, 50, 52, 54, 56, 58, 60, 62, 64 degrees with two of three bounce options available for each loft.