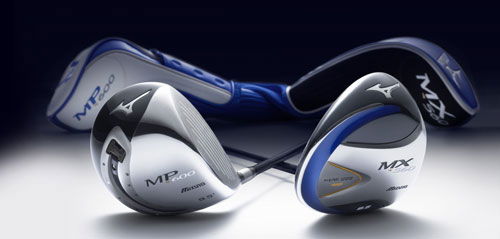 On the move:Mizuno's two latest drivers due for launch shortly - the MP-600 (left) and MX-560
It's emerging that Mizuno has taken moveable weight technology to another level, with its latest MP-600 driver, allowing the weights to be dialed up on a 'fast track' behind the head - just like the hooks on a curtain rail.
Instead of the usual three or four settings with the moveable screws introduced by TaylorMade, among others, the Mizuno system allows the weights to slide around the back of the 460cc clubhead and then tightened into position with a twist to create different launch angles and flight characteristics.
Originally unveiled as a concept in seven years ago, Mizuno says the MP-600's revolutionary fine tuning system allows the golfer to quickly and easily adjust their ball flight. Two 8-gram weights can be placed in six distinct locations along the perimeter of the driver's sole, creating 15 possible ball flight options to find the ideal setting to maximize distance and control.
While pros who use Mizuno drivers will be able to adapt to different playing conditions, it's hoped the club player will enjoy the opportunity to tweak the settings to generate a high launch with a strong, boring trajectory to suit their swing.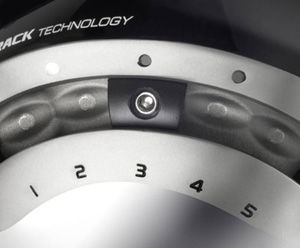 Dial-a-ball-flight: Close-up of the MP-600's MWT




Says Masao Nagai, global director of Mizuno's research and development: "We have been a little quiet for the last couple of years, but Fast Track is a very exciting project that puts Mizuno back at the forefront of technical advancement."

"All 15 settings are useful and easy to find. We think that the system will be very popular among better players and consistent ball strikers looking to fine tune their ball flight. This is not a fault correction system but a fine tuning device."

The MP-600 driver (priced at a recommend £269) also features a CNC milled, plasma welded CorTech face design to generate maximum ball speed and distance across the face, and produce a solid feel from the classic head shape.

The club will be available from November 15 while the new MX-560 driver (recommend price of £219) will be available in pro shops from October 8.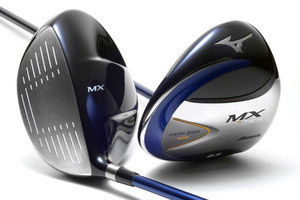 Head-to-head: The MX 560 driver




The main benefits of the MX-560, say Mizuno are forgiveness combined with raw power - 'a monster of a straight distance driver.'

Mizuno says that while it studied the demand for driver accuracy it decided the 'square route' was not the direction it wished to pursue as its engineers 'discovered drivers sacrificed distance in their quest for maximum MOI (resistance to twisting)'

Instead Mizuno re-engineered a 'bulge and roll' design to the face that improved consistency from off-centre strikes.

"With the new 2008 guidelines for driver performance coming into effect [ new restrictions on COR from January 1 make many drivers illegal], we wanted to show club golfers that they wouldn't be giving up any distance this year," says Andy Kikidas, European product manager. "We took the new guidelines as a challenge and found other legal means to help club golfers hit the ball further than ever. It will be a nice surprise to anyone who thought the new driver regulations would be robbing them of distance."

The MX-560 driver (£219) will be available in 8.5, 9.5, 10.5, and 12 degree lofts. A left (9.5 and 10.5 only for left-handers). The Exsar DS3 graphite shaft (L, LT, R, S) is standard, though other options are available through Mizuno's custom fitting programme.

Tell us on the forum if you've had experience with moveable weight technology and whether it works for you. And have you found something yet to replace the driver in your bag that becomes illegal from January 1? Are you panicking or hoping to get away with using the old one?