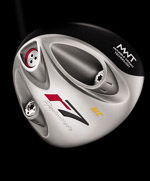 r7Steel fairway wood
Using the moveable weight technology that has made its r7 drivers the most versatile, from Tour pro to club golfer, TaylorMade has unveiled two new fairway metals – the r7 Steel and r7 Ti.
The r7 Steel has a more traditional, compact head and shallow face with two interchangeable weighted bolts (2 and 14 grammes).
It also features a choice of TaylorMade RE*AX 70 graphite shaft with a slightly stiff tip to promote a medium-height trajectory (X, S, R, M, L flexes) or True Temper Dynamic Gold Lite steel shaft (X, S, and R flexes).
The r7 Steel created for players who want to promote either a neutral ball flight or a right-to-left ball flight, depending upon how the TLC cartridges are configured. TM tests indicate shot-shape movement could be up to 15 yards.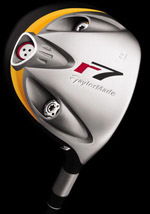 r7Ti fairway metal




The r7 Steel will be available in Tour Spoon 3-wood (13 degrees), 3-wood (15), 4-wood (16.5), 5-wood (18) and 7-wood (21). Available in April 2006 the suggested retail price is £169 (graphite shaft) or £149 (steel) shaft

The r7 Ti is more forgiving and includes similar moveable weights, pull-face construction, titanium clubface, and a head 15% larger than the r7 Steel.

It will be available with a TaylorMade RE*AX 60 graphite shaft with a soft tip to encourage a higher launch and longer carry (X, S, R, M and L flexes). Recommended price is £229 and availability is in 3-, 5-and 7-wood.

The wrench, necessary for removing and installing TLC cartridges in TaylorMade drivers and fairway metals, is sold separately from most TaylorMade retailers