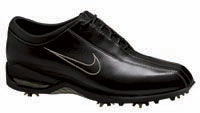 Nike Sp7 shoe.
If you're prepared to spend £120 on a pair of golf shoes in our weather conditions – then Nike has just the thing.
Tiger Wood's shoe, clothing and club supplier is soon to launch its Sport Performance Shoe Collection which Nike claims 'promises to be a successful marriage of necessity and desire.'
At first glance they'd look more at home on the feet of our best sprinters.
The SP-7s will be available in black, taupe and stone and with Gore-TEX technology, Nike claims they are 'the driest, most breathable shoe on the market.'
As well as heel and fore-foot Air-Sole (that's Air-Sole!) and Zoom Air underfoot, the shoes are made of calf leather and have Scorpion Stinger spikes that signal when it is time to change them - with a colour-code wear metre.
The slightly cheaper SP-5 (£80) have a more traditional look but with the same two-seam centre stitch of the SP-7, made distinctive and popular by the World's No.1 golfer.
The SP-5 shoes are also available in women's sizes with colours which include ruby/white and quicksand/white. Expect to see them in the shops in January.