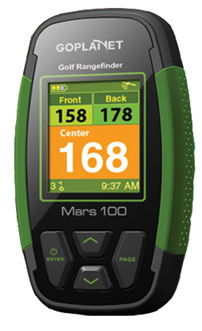 Mars 100 GPS device
  Distance-measuring golf GPS systems are getting cheaper. For as little as £130 you can now purchase the Go Planet Mars 100 GPS, distributed by JS International.
Measuring the distance from ball in the fairway to flagstick has come a long way since Bernhard Langer wheeled his yellow surveyor's pedometer around the world's toughest courses measuring from both the front and the back of a sprinkler head!
When first introduced these sophisticated data providers for the Tour caddie's humble yardage book, would have set you back at least £400 but now this latest addition to the fastest growing sector in golf is sleek, simple and stylish has a price tag just over three figures.
Fitted with a highly sensitive GPS receiver allow you to measure individual shot distances via satellite technology, even eliminating any confusion over who has hit the longest drive!
The Go Planet Mars 100 Rangefinder also has the capacity to store up to 100 courses at any one time and has more than 1500 of the 20,000 it claims worldwide, mapped out within the UK and Ireland.
However, unlike some of the more expensive models on the market it demands, a one-off lifetime membership and added fees for what it describes as 'low cost downloads'. these are available from www.mygolfgps.com.
Each course comes with detailed scorecard data including hole number, par, stroke index and distance with an added feature showing how long it should really take to complete your round.
Available in up to 100 languages, the Go Planet Mars 100 GPS device weighs under 100 grams, is waterproof and has five colour options. The £129 package includes a PC utility CD, AC/DC adapter, USB, pouch, belt clip and quick start guide.
For more information visit www.jsint.com or call 0845 1242275.