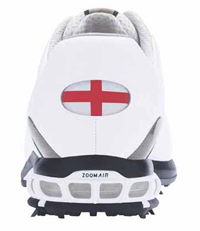 Nike's new shoe




Paul Casey will be among the English Nike-sponsored golfers wearing the latest Air Zoom Elite World golf shoe complete with cross of St George on the heel. Simon Dyson, Richard Finch and Oliver Fisher will also be wearing the red and white emblem on their footwear.

Similarly national flag emblems are being provided for Scot Marc Warren, Swede Patrick Sjoland and members of the German Golf Federation's men's team.

The limited edition innovation is an added feature enhancing comfort and improved fit in the all-new moulded Heel Fit System. Nike says the outside push plate provides support and control through the backswing, while the inside plate flexes to help maintain contact with the ground through impact.

Recommended price for the new shoe, available in a range of stylish colours is: £110.

Ping Collection is introducing a range of Cosmos polo shirts for men and Chas-Cha tops for women.

Bold and broad, horizontal stripes in mango, lemongrass and red pepper, are a feature of the men's shirts which are light and breathable. Recommended price is £36 for adults and £30 for juniors.

The short-sleeved Cha Cha has curved panels on the front to help to accentuate its athletic shape and is finished with a contrtasting collar with stud fastenings.

Made from a Dry Fibre fabric to keep the body cool and dry the shirts are available in white (with mango and black) and black (with mango and white) at a suggested retail price of £30.