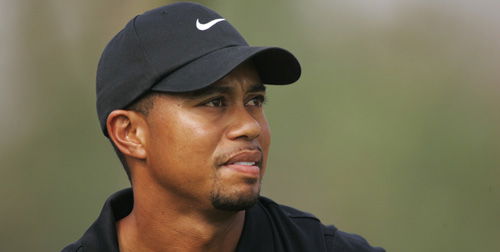 Tiger Woods launches nike 360 fitting system
Nike Golf is introducing a new 360 Fitting System for customising clubs and to provide golfers with a Tour-level fitting experience. Nike says it not only 'addresses gap yardage solutions but provides a club type logic ( e.g. hybrid or iron, 3-wood or 4-wood) throughout the set.
It was launched in Florida this week when World No.1 Tiger Woods talked about his Nike connection and the role he has played in testing the latest equipment. Here's the first of a two-part interview.
You demand perfection with your clubs, and it speaks volumes about your relationship with Nike. As you continue to tweak your equipment and update your bag, it's going to be exciting to find out what changes are in store for 2008. You had an incredible 2007 season. Can you put your year into perspective?
TIGER WOODS: Well, this year probably I would describe as a polar opposite of last year, not necessarily because of what I did on the golf course but what happened off it, and I think that's been the most incredible thing is that everything I did on the golf course, it gets put into perspective real quick when something happens last year, and then with (daughter) Sam this year. This is the coolest ride ever.
Has she gripped a Nike driver yet?
TW: It's a little long. I've been practicing at home a little bit this past week and she's been out there watching me hit balls. It's interesting, she shakes it every time I hit a shot. She gets excited, like this could be a good thing. She's never going to beat me, though (laughter).
Always the competitor. Now you play the Nike One Platinum ball, your choice; you play the blades, Sasquatch driver, fairway woods. Talk about how involved you are with getting your equipment right where you want it to be.
TW: Well, if it's not going to help my game, it's not going in the bag; that's just the way it is. I've been involved for every single process of it, from tweaks to shaping the irons to shaping the woods to obviously constructing the golf ball. I need to have it do certain things, and if it's not doing it then we have a problem and we work through it.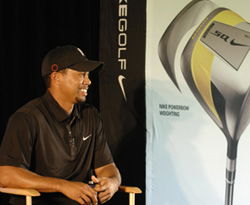 Woods answers questions at the Nike fitting System launch




That's been one of the greatest things about working with Nike is they've allowed me to use my feel and use the things that I know about the game of golf that then they can translate it into numbers. I can only basically tell you by feel what the ball does or how a club feels, but it's actually been a pretty neat relationship because I've learned so much, obviously infinitely more than they've learned from me. But it's really allowed me to play to a different level because obviously now I can make tweaks from a numbers perspective, which I never knew even existed.

We can understand why you would be reluctant to change anything, considering the streaks and the runs that you go on with the equipment that you have. It begs the question have you tested the new drivers yet, the new fairway woods, the SUMO2 5900 and 5000?

TW: I have tested all of it, and it was just like the last square. I hit it straighter, there's no doubt. I hit it straighter, but I enjoy working the golf ball and almost need to for the length that I hit it. I just found a little bit more of a difficult time putting the ball into some of the doglegs because the ball would just go too straight, which is great for all the amateurs out there. You hit it straighter, which I did, and I hit it a little bit further, as well. Everyone who's obviously tested the square and the new one finds the same thing.

What would you tell a consumer as to why they might want to go with these clubs?

TW: Well, you hit it longer and straighter. That's like the greatest combo you could possibly have. Not too many amateurs out there are going to be trying to hit two-yard draws or three-yard fades and change your trajectory by six, eight, 10 feet. That's not what they do. But for them -- for most of the consumers that don't play golf all the time, that don't do it for a living, there's nothing like hitting it longer and straighter.

What's your opinion on this new 360 fitting system, how close you are to it and how much it's going to help the average golfer.

TW: Well, I think it's been great because it's all about getting the equipment to fit you. You don't have to fit the equipment, and I think that's how I learned how to play golf. My dad was ardent about getting the equipment so that I didn't have to make any type of setup adjustments or even swing adjustments just because the clubs were too long or too short or too heavy. And that allowed me to get my fundamentals better and develop them I think more sound at an earlier age, where a lot of the other kids didn't have that luxury, didn't have a person in their life that believed in that.

Well, that's basically what I've always grown up with, and now the amateurs get to experience what we get to experience all the time on TOUR, have the equipment fit them. It's amazing how much further the guys are hitting the golf ball, how much better they're playing because the equipment fits them. It's not like the old days with the persimmon driver where if the face wasn't quite right you'd kink it on your knee, and that was that. You don't have to do that anymore. You have a driver built for your swing, your set-up and off you go.

You talked about the square driver. Can you talk about the ball a little bit?

TW: Obviously I like an all-around golf ball, one I can play in the wind, one I can use on hard and soft conditions, and on top of that, one that works with all 14 clubs. A lot of the amateurs out there, they really don't need to have that type of detail. If they hit the ball longer and further, they're going to love it. They don't want the ball to stop.

I want my ball to go a specific number, and that's one of the reasons why I think I've stayed with the golf ball I've been playing with.

And then I think it'll be interesting to see how the market goes, especially in our Tour industry, if the USGA changes the rules on the grooves. It'll be interesting to see if the guys stick with the firmer cover golf balls or are they going to go back to a little softer ball?

The only non-Nike club in your bag is your putter. Do you ever foresee using a Nike putter?

TW: I travel with all back-ups, and obviously my back-up is a Nike. But my putter has been pretty good to me (laughter). I've won a couple tournaments since. I put it in play at the Byron Nelson (Championship) of 1999. Yeah, 12 majors with one putter is not too bad.

Q. There's one thing that I don't quite understand. If you have a square-faced driver, you can hit the ball quite straight. Why can't you close the club face slightly at impact to make it draw and open it slightly at impact to make it fade?

TW: Well, I think, one, the driver being designed to hit the ball straight, you have to make big adjustments. Well, I feel like I have to make big adjustments to curve the ball either way. Instead of making finite changes and then swing path or the shape of it, what you want to do with your hands, what I want to do with the golf ball, you have to make bigger adjustments. Making bigger adjustments with the driver means you start tending to make bigger adjustments with the rest of your clubs. I feel like I've got it dialed in to how I like to play golf.

Is there a time where, yeah, I could see myself using a square driver? Yes, but I haven't found one that I can quite work as easily. It's designed to hit the ball dead straight, which it does. I hit it longer and I hit it straighter. But working the ball around doglegs, that's one of the things I found was a little bit more difficult for me.

One of the things they've put down with the square driver is great sound. What was your reaction to the old sound of the other square and what's your reaction when you hear the new one? We all knew when K.J. was on the range.

TW: The first one I think was good and bad. It was good in the sense that it was eye-opening. It got your attention. It brought awareness to what we were doing. But also people laughed at the sound, as well, so I think that would be the bad part of it. But the functionality of the club was far superior to anything else out there, and I think that's why a lot of the consumers did buy it, even though we had issues with the sound.

Audio-wise that's been fixed, and the functionality of the driver has gotten even better, which is even more scary.