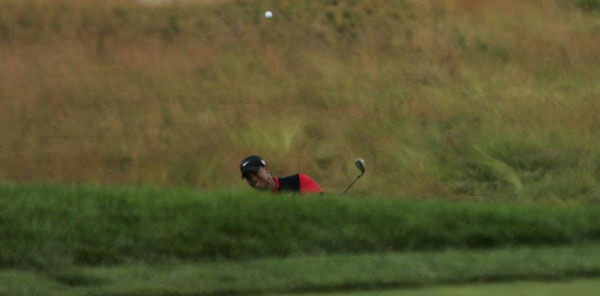 Tiger escapes using his 60-degree wedge
Such is his attention to detail that Tiger Woods has, for most of the season, been playing irons and wedges that conform to the USGA's new groove regulations not due to take take effect until January 1, 2010. Allegedly, the only club in Woods' bag that will need to be replaced for the new season will be his sand wedge, a 60-degree Nike SV.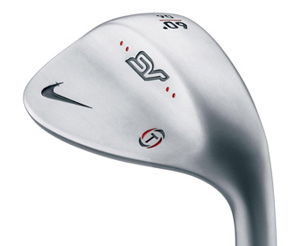 Nike SV 60-degree wedge, similar to that used by Tiger Woods




"For me it's just my two sand wedges," says Woods, " otherwise I'm fine. A lot of guys actually have it through the bag. I've never been one who likes that. I like the flyer. You need it sometimes to help you get the ball to the green."

Woods said that he continues to use the Nike SV 60-degree wedge with the V-grooves because of how tough some of the Tour's pin placements are.

"Around the greens, having those sharper wedges has helped, especially since the Tour has made a conscious effort to make the pins more difficult, three and four (steps) from the sides of the green. When I came to the Tour in 1996, a tight pin was five, or even six paces [from the sides]. That's one of the reasons guys have gone to more lofts on their wedges and sharper grooves."

Woods says that when all the Tour players switch to conforming U-grooves for the 2010 season, many will use more highly lofted wedges to compensate.

"You'll see quite a few 62- and 64-degree wedges in the guys' bags," Woods predicts.

WEDGE-NOTE: A 60-degree wedge cost Srixon player Jim Furyk a four stroke penalty at The Barclays Fed-Ex play-off event. He left one with extra bounce in a bag that already contained a 60-degree version with less bounce and caddie Mike Cowan failed to spot it, meaning the former US Open winner was carrying 15 clubs. Furyk had to take two-shot penalty for each hole played before the club - cloaked by the rain hood - was removed.

Tell us on the forum what wedges you carry and whether you've enlisted the aid of even more loft than the traditional 60-degrees. Ever been penalised - or penalised yourself - for carrying too many clubs?