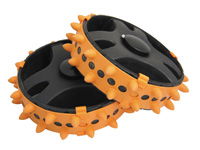 Yellow protectors developed for rental trolleys
The time of the year is approaching when trolley bans at some courses are introduced in an effort to prevent ground conditions becoming too slippery and dangerous. However, the demands of carrying a golf bag often proves too much for those more use to pull or powered trolleys and robs them, they say, of value for money for their membership fees.
However Masters Golf, is launching an innovative idea which may prove a boon for the trolley-reliant golfer and claims to deliver less wear and tear on the course.
Hedgehog Fairway Protectors are spiked sleeves, which fit to most trolley wheels and are designed to minimise the damage underfoot and claim to lighten the load, too.
Hedgehogs consist of a set of plastic studded wheel sleeves, which wrap around and clip to almost any trolley. Parabolic studs roll over the ground, reducing contact by 75 per-cent because only three studs are in contact with the turf at any one time. They merely leave dimple marks instead of the unsightly wheel tracks, say the makers.
"It's a unique idea which stands to benefit everyone in golf including green keepers," says Colin Christison, sales director at Masters Golf. "We hope that eventually the Hedgehog programme will encourage all courses to welcome trolleys in winter."
Hedgehogs cost £29.99 for a set of two and are available in yellow (for club rental) or black. For further information visit www.mastersgolf.co.uk or call Simon Atkinson on 01934 523900.