Player in action at Essex University course
When American students at Yale University early last century picked up and threw discarded pie tins and discovered they had aerodynamic qualities, they spawned a new sport that swept the world.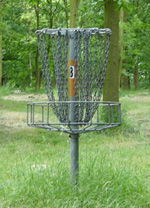 Chains surround the basket (or 'hole') to help catch the disc




The frisbee, derived from the Frisbie Pie Company in Connecticut, which supplied to retailers and restaurants, now has various off -shoots, one of which will be showcased in Colchester, Essex over the weekend (March 10-11) when the British Open Disc Golf Championship is staged.

Called disc-golf (rather than frisbee-golf) because toy-maker Wham-O alone owns the 'frisbee' trademark, the game is played by over half a million around the world but chiefly by US students and in Scandinavia. There are even professional players.

Disc golf is similar to traditional golf, except that players use specially-designed plastic flying discs instead of balls and clubs, and throw them to eventually reach a target - a steel basket over which chains hang - which stands at about five feet above-ground target.

However, there are different types of discs – including 'drivers' for initial throws from the tee and 'putters' to deliver that final throw.

The object of the game is to throw the disc into the target in the fewest number of throws.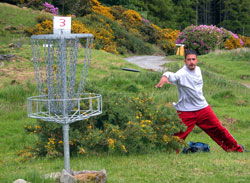 Fernando Brown in action (picture: Angus Bruce)




The event, in the wooded, parkland setting of the University of Essex, has attracted some of the game's top players in the 90-strong field. They include Christian Sandstrom, from Sweden, the current world-distance record holder (250 metres) and the reigning British Open champion and local challenger Fernando Brown, last year's highest placed Briton.

Players from 14 countries, including the United Kingdom, Europe and the USA will be fighting to take the crown, with highest-ranked players qualifying for the European Open, held in Finland, and the US Disc Golf Championships in South Carolina.

"The course is going to be tough for the visitors and my intimate knowledge of the course is sure to help me, " says Brown. "I'm looking to reach the final."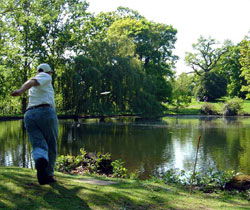 The infamous 8th tee shot at the Colchester course




Home to the oldest permanent disc golf course in the UK - there are 20, from the Isle of Mull to Portsmouth, via Northumberland, Shropshire, Wales, and Dorset - the course provides some stunning 'holes' as well as some devious challenges.

Says tournament director, Tim Herring: "We have a new, '18- hole' short-course, which demands pin-point accuracy and avoidance of some notorious obstacles.

Most infamous is the Lake Hope hole which requires an 80-metre tee shot over a lake, through a small gap between the trees on the other side. Spectators are welcome on both days with the final rounds, beginning at 1pm on the Sunday.

Have you played disc or 'frisbee' golf. Tell us where and when on the forum.