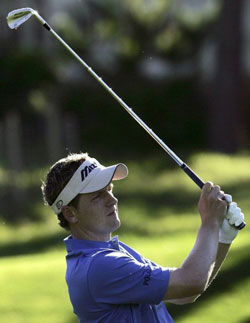 Luke Donald - answers your questions
Luke Donald took time off from finishing in a tie for 26th place in the World Golf Championship CA event in blustery Florida to exclusively answer questions from Golfmagic forum members.
Over 50 of you submitted questions to Luke - for the chance to win a Mizuno Bettinardi putter and three Skintite gloves.
At the Blue Monster course at Doral, Luke shot rounds of 74, 70,75 and 71 to finish on two over par, 12 behind the winner Tiger Woods and now heads for Augusta for a few days acclimatisation before the US Masters which starts on April 5.
Joe Burroughes, a solicitor from Norfolk, who wins a Bettinardi putter as used by Luke, asked: "What gives you most satisfaction, your painting or your golf? And If you could paint just one golfer, on one hole, on any course in the world, who would it be, and where?
Luke replied: "Definitely my golf gives me most satisfaction, Joe. I like to paint, although infrequently, but my true passion is golf. I practice hard to try and be the best I can be.
But if I had to paint a golfer, it would have to be one of the greats. Probably Ben Hogan, as he had great form. I'd have liked to see him playing the 16th at Cypress Point so that would be the setting for a painting.
David Williams asked: "How many combinations of head/shaft/grip do you have to try on on the Mizuno MP-67s, before you find the perfect combination and what are the major factors for you in deciding what works best?"
Says Luke: "When it comes to what irons I play, for the last 6 or 7 years, I've played the same combination of shaft and grip, so that's an easy one. I play Dynamic Gold s300 steel shafts and use a Tour velvet grip with one layer of tape. For the last two years I've played the Mizuno MP-32 irons which are working just great. My irons are pretty much a standard set, apart from the bounce on the underside of the irons, which I have rounded a little more than standard so that they go through the turf more easily.
Richard Wildsmith, from Barnsley asked Luke: "As a multiple winner on Tour and (and millionaire), what is your favourite indulgence?"
Luke replied: "Being a part of the Tiger era, I'm lucky to be able to play for as much money as I do, Richard. My biggest indulgence has been properties. I have an apartment in Chicago and a house in Florida. I live in Chicago in the summers and Florida in the winters, so am able to practice all year round. This also allows me to be as well prepared as I possibly can."
The final question came from Andrew Rose: "How similar are the feelings you experienced between your first ever professional tournament victory and your 2006 success? Does victory mean different things now? Has the excitement diminished?"
Luke replied: "Winning is everything, Andrew, and it never gets diminished. I practice hard so I can get into contention and feel the excitement of being in the hunt. Sealing the deal and picking up the trophy is the best feeling of all. The first one was very special, but my 2006 victory at the Honda Classic was just as pleasing."
Luke to launch his own wine
Luke and his fiancée Diane Antonopoulos, who plan to marry in June on a Greek Island, is currently working with Bill and Debbie Terlato to produce his own blend of wine from the Rutherford Hill winery in the Californian Napa Valley.
"I've always tried to surround myself with premier brands to elevate my brand," said Donald, who already has contracts with Mizuno, Polo, Rolex and the Royal Bank of Scotland. "Whenever I've done any deals it wasn't really about chasing money. It's about situating myself with the right kind of brands. It's a kind of lifestyle, in a way.
"Every time I tell people (about the wine) they are very interested and getting involved in the process is what makes it really fun. I don't want to just open my first bottle of wine and have no idea of what it tastes like. So I'm excited. "
The wine, which has yet to be named, will be bottled in August and be released in April or May next year. It's anticipated that Donald, who majored in art theory and practice at Northwestern University in Chicago, will create his own artwork for the label.