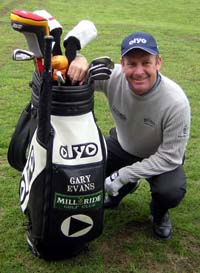 Gary Evans – Olyo backing
Gary Evans – a top ten finisher in the last two Open Championships is writing an exclusive diary for Golfmagic. He represents Olyo on Tour and we're grateful for their support in this special series.
Sunday
I arrived at the house we're renting at Troon in the early evening after driving over from Loch Lomond, where I'd played the final round of the Barclays Scottish Open.
It was good to get four rounds under my belt on a tough golf course before tackling The Open.
It helped to keep me really sharp for this week and get some more rounds in with my new putter.
It has been the putter that has been holding me back recently. In fact I've tried 14 different ones in recent months but I've finally settled on a Scotty Cameron by Titleist model that has been specially made for me.
The greens at Loch Lomond aren't the easiest but I putted nicely for a one under par total. I was never threatening the leaders with rounds of 70, 70, 71 and 72 but I was happy with a tie for 56th and the chance to play at the weekend.
Needless to say it was an early night for me on Sunday – I was pretty tired.
Monday
Still feeling a bit weary so decided to skip a proper practice round and just walk the course with my caddie from Leeds, Dominic Bott who has been with me for a long time.
It was good to familiarise myself again with Royal Troon, which I haven't played since I came here as a nervous amateur in 1989.
Without the added pressure of hitting shots, it was useful to check the yardages and likely pin positions at a leisurely pace, without getting in the way of other players. Afterwards we had dinner with my manager at Golf Management International, Euan Ingles, and another player from our stable who has qualified - Euan Little, a Scot who represents Tipperary Golf Club on Tour. It's probably just as well that my coach Ewen Murray (the Sky TV commentator and former Tour pro) isn't with us this week. Imagine having a conversation with three people with the same name!
Tuesday
Some people might think it's all parties and late nights during Open week – but it's not for the players at least. Not unless you want to give yourself no chance of the ultimate prize in golf.
I was up at 6am for my practice round at 7am with Brian Davis, who is also part of GMI. We've been mates for a long time and regularly play practice rounds together at tournaments.
There were no side bets, merely a comparison of notes on yardages, pin positions and most important the best way to plot your way round a top Open Championship course. You need to know the best places to miss the fairways and greens if your game's not quite on song.
The winner will be the player who makes the least mistakes, not necessarily the one who makes the most birdies.
Though we were only a two-ball we kept our distance from the group immediately in front of us. I'd prefer not to be called through by Tiger Woods!
In the afternoon a spot of lunch and some time on the practice ground to iron out a few minor faults. I'll also need a little more time with my new putter.