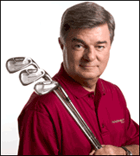 John Hoeflich
New equipment brands are few and far between these days, especially ones which offer high quality kit at affordable prices, but golfers in the UK will soon be able to try and buy some of the best selling clubs in the US following the launch of Nickent Golf in the UK later this month.
Although widely known stateside as the 'King of Hybrids', the California-based company produces a complete range of equipment, from putters through to woods and wedges, and has built up strong support from the professional ranks, with in excess of 40 wins on the professional tours by players using its clubs. Nickent is especially strong on the Nationwide Tour, where players are more prone to playing clubs they like rather than the ones they have to use through equipment contracts.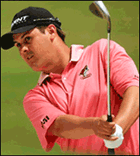 Jeff Quinney
Among notable names currently using Nickent gear is PGA Tour player Jeff Quinney, who finished 38th on the PGA Tour money list last year and is regarded as one of the rising stars of the US game.
Much of Nickent's success stems from the input of one of the industry's most respected club designers, John Hoeflich, whose patents over the years have included the Tommy Armour 845 irons, Titleist DCI irons and TaylorMade's RAC irons and wedges. His experience has helped establish Nickent as one of the leading technology players in the industry.
Here's a quick overview of what's in store for UK consumers.
4DX Evolver Driver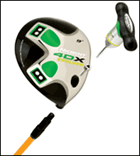 4DX Evolver driver




Nickent was one of the first companies to market a driver with interchangeable shafts in early 2008, and the 4DX is the latest generation of this genre. It features an interchangeable hosel, referred to as 'Change Your Game Technology', which allows for 26 different clubface angles, a marked step up from those offered by Nike's new STR8-FIT, and TaylorMade's R9.

The hosel configuration allows users to alter face angle, lie angle, launch angle and loft by up to three degrees, in addition to allowing golfers to use the shaft of their choosing. The club comes with its own torque wrench, which is used to loosen and tighten the head, via a recessed screw located in the bottom of the clubhead. To change the face angle, just adjust it into the desired position and retighten the screw. The Evolver also features a thin titanium crown and extreme peripheral weighting.

Nickent also has two other drivers in its stable, the magnesium-crowned 4DX SuperMAG and the triangular-shaped 3DX RC, which we'll have more on when we get our hands on some samples. DX stands for 'directional control' in Nickent-speak, which is modified by the tungsten-polymer XW inserts located in the clubhead, which is a feature of all three drivers.

5DX Ironwood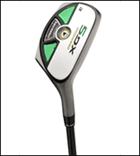 5DX Ironwood




The latest piece of kit off the Nickent production line is the 5DX Ironwood, designed to be the longest and straightest hybrid the company has produced. The somewhat revolutionary shape is designed to place discretionary weight to the extreme perimeters of the clubhead, while the 'wings' on the rear of the head (which includes 2g tungsten weight inserts) aims to optimise the centre of gravity and increase stability, adding forgiveness on mis-hits.

It also features a cambered sole with a bevelled leading edge to help the clubhead cut through turf, as well as nip it off tight lies. It is available in nine different lofts, one club for each 1.5 degrees from 14 to 26 degrees.

Nickent's range of hybrids is completed by the more orthodox-looking 4DX Ironwood, which appeared on Golf Digest's Hot List last year, and the 3DX RC Ironwood, which features a slightly shallower face and tungsten-polymer inserts.

4DX Hybrid/Iron combo sets

Given its popularity as a hybrid brand, Nickent's irons not surprisingly transition from traditional irons (SW-5) to more user-friendly hybrids (3H, 4H) to offer extra forgiveness as you progress through the lofts. All irons combine a titanium face with a steel body, backed by carbon composite with tungsten-polymer inserts, which dampen down shock and absorb vibrations for a more solid feel.

4DX Hybrid Iron set
ARC Blades
Better players will prefer the playability and precision offered by the ARC Blade, a classy-looking club that features a layer of high rebound elastomer (Accelerated Rebound Core) behind the hitting zone, but inside the head, to make it one of the more forgiving player's irons on the market. The ARC irons are supported by a matching set of ARC wedges, which feature the same three green dots in the head, which allow you to see the elastomer insert. They come in matt chrome, forged chrome or a gunmetal PVD finish. All are forged, which creates a softer feel and offers plenty of feedback for deft touch around the greens. There are seven wedges offered in the series, ranging in 2-degree increments from 50 to 62 degrees.

ARC Blade - ARC Wedge - Pipe Dream Putters come in eight head configurations
Pipe Dream Putters
Nickent has eight putters in the Pipe Dream range, all of which feature a cylinder pipe backweight which is the exact diameter of a golf ball. Filled with a tungsten weight, it aims to provide a 3-D view of exactly where your putter is aligned, while at the same time creating a very low centre of gravity, for smooth rolling, accurate putts. A milled insert in the face also enhances feel at impact.
Nickent Golf will be launching their entire range at this week's London Golf Show (www.londongolfshow.com) and we'll be testing the complete range over the next few weeks.
For more details visit www.phoenixbrands.eu or www.nickentgolf.com.
Have you ever tried Nickent clubs before? If so, share you experiences on the forum.

The ARC wedges feature a polymer insert for added forgiveness