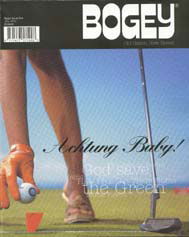 Bogey – good read.
Bogey magazine
Price: £3.50
First impressions can be deceptive. Take 'Bogey' the new golf magazine from the Docklands-based Media Cell publishers, for example.
When my 17-handicap son brought a launch copy home from the garage (price £3.30) and I flicked through its bulky 164 pages of psychedelic design and blurry fashion mag images, I could feel the hairs on the back of my neck stand to attention.
'Golf magazine? They're taking the p***!'
After all, I should know, surely – I was Editor of three successful ones for ten years!
"But that's just it," said my 30-year-old, who reckons he's cool. "You're too close to it. You don't get it. I think it's good; it's my kind of golf magazine."
In search of a second opinion, I showed it to some of my former colleagues and they agreed with me, but then again they would – I hired most of them!
"What are they like?…they can't be serious…it's a joke, surely?" were just a handful of other initial impressions.
However, scrape away the flash, unco-ordinated design and some silly, token 'golf babe' photography and 'Bogey' asks some serious questions about golf and golf magazine writing.
'Don't darken our door' asked two black golfers and two white golfers to visit a traditional golf course to discover how differently they were treated.
The feature didn't disappoint, revealing appalling racism as the black players, dressed immaculately in golf gear were hassled about their playing ability, asked to eat their meal in an annex and leave by a side door, while their colleagues, despite one being dressed in jeans and trainers, were given first class treatment. Just a pity 'Bogey' didn't have the guts to name and shame the club.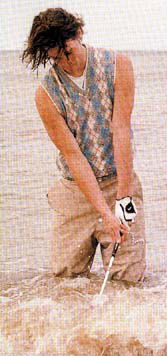 Silly fashion pictures.
Though the use of the 'f' word was gratuitous, style guru Zachary Drake explained how 1980s golf clothing could still be in vogue, while editor Steve Muncey (a former deputy with establishment magazine Golf Monthly) revealed how car-makers Audi have employed a Brit to come up with a revolutionary, prototype golf club.
As someone who has played a famous golf course at dawn without paying, I could relate to how two golfers regularly blagged their way on to Wentworth and The Buckinghamshire, and was almost out of breath reading Tony Dear's report of how Extreme Golfers in San Diego run round 28 holes every morning in less than an hour, while still playing to their handicap.
Much enjoyed were the profiles of Europe's and America's latest teenage whizz-kids Zane Scotland and Ty Tryon. Both produced pearls of wisdom and gave an insight into how the next generation of Ryder Cup players consider the game.
Said Scotland (19): "If young kids want to go on to the practice ground they should be allowed to wear trainers or whatever. You'd think people would chill out on that sort of thing because it keeps people away."
As for Tryon (17) he revealed he has a 32-year-old yoga teacher called Sarah. "It's strictly business remember. She helps me deal with the bombardment in my life. She's been so cool. With a round to go at the qualifying school I was totally out of it, my man, in 50th place. But she took me for a moonlit yoga session on the sands at West Palm Beach and an hour later I stood up and shouted 'I'm going to shoot 65.' I shot 66 and got my Tour card."
Apart from the unnecessary bad language and design which makes some features almost impossible to read, 'Bogey' deserves a chance to express itself. It has hooked up some tasty ads in its first issue and it will interesting to see whether it can maintain its ideas, writing quality and revenue by issue No.3.
Most mainstream golf magazines survive on 60 per-cent instruction to attract readers, apart from Scott Cranfield's enlightening article on humming your way to more birdies, this had next to none.
Muncey says that Bogey is 'a big broom sweeping away old cobwebs. If you don't like cobwebs, you'll like us. If you like things the way they were, you won't.'
If it will attract more kids to the game, there's room for both...I wish it well.