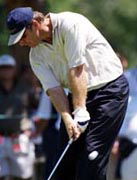 Faldo – changed man.




There was a time when Nick Faldo, his management and me didn't see eye-to-eye. I had commissioned a Faldo interview from a respected journalist on the European Tour and the six times major champion didn't like it.

I published his quotes, minor expletives and all, in the magazines I edited at the time and Faldo's management immediately denied he'd said what he did.

My retort was that we had it on tape and if he wished to listen to it he was most welcome. He responded by saying that his son Andrew regularly read the magazine - the world's longest established golf publication - but that his dad would ensure he wouldn't have it in the house in future.

That was then, this is now - and I've been rooting for 'the old man' again.

His 65 in the third round of the Heineken Classic, which put him on top of a leaderboard for the first time since 1997 – the Nissan Open in Los Angeles - which he went on to win.

Despite losing to the phenomenal Ernie Els by one shot in Australia on Sunday, he's suddenly everyone's favourite golfer again after a period where only the Americans appreciated his sense of humour and quirky antics.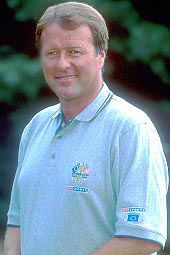 Ewen Murray.
I spoke with Ewen Murray yesterday – Sky Sports' No1 commentator and analyst - and he revealed a definite change had come over the six times major champion.
"At the Ryder Cup in September it was Nick's first time in the commentary box with Sky. And he was most impressive.
"He was nervous at first but he took advice that was offered and quickly got into it. He was eloquent and enthusiastic and by the end of the week he was first class.
"In fact the Sunday of the Ryder Cup was one of the quietest I've ever experienced in the commentary box. The golf was unbelievable – it told it's own story and we let the pictures speak for themselves."
So what's Murray's impression of the future for Nick Faldo – the player.
"I have no doubt that the time he spent in the commentary box and working with us, re-kindled his desire to make the next team in 2004. He didn't want to be captain, he wants to play."
Murray, a former World junior champion and European Tour pro, believes he knows why Faldo has been so long in the doldrums.
"In my opinion Nick has been too hard on himself. But believe me that 45-year-old body is as fit as people aged 30. His swing is better than it was; you can now see how it flows.
"If he can make the team for 2004 it will be fantastic, not only for us and for him but for golf."
There was a time when many observers, except his greatest fans, saw Faldo as arrogant and tetchy, even in his darkest days when he slipped outside the world's top 150. But a new Nick has emerged and we're delighted to have him back.